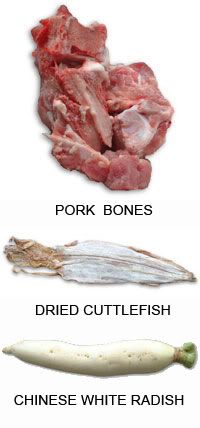 This is a relatively simple dish to make.... the soup is sweet and tasty. However, some people might find the dried cuttlefish a bit pungent, but it adds a sweetness and flavor to the soup. It can be omitted if so desire.

If you're ever in Penang, check out the Chinese sundry shops selling dried goods at Jalan Pengkalan Weld. You'll find good selection of dried ikan billis, salted fish (or bones), cuttlefish, dried shrimps, dried scallops, dried mushroom and the likes.


INGREDIENTS

1 or 2 Chinese White Radish (depending on the size)
6 pieces pork bones

8 pieces (1"x3") Dried Cuttlefish

4 Dried Red Dates
3 cups water (750 ml)
Salt


Fried
Shallot
Chinese Parsley




Cut the Chinese White Radish in oval or circular chunks (1/2" thick)

Use scissors to snip the cuttlefish into the above mentioned size

In boiling water blanch the cuttlefish for a few seconds. Wash in cold water, and peel off translucent -looking skin (if any)

Quickly blanch the pork bones as well. Remove and wash in cold water

In a claypot, boil 750 ml water. When boiled, put in the pork bones and cuttlefish and boil for 1/2 an hour.

Add dates and white radish, and simmer for about an hour with the lid on.

Add salt to taste, and garnish with fried shallots and Chinese parsley before serving.