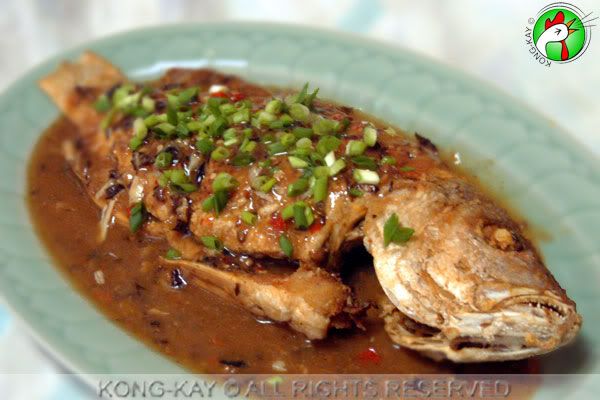 First off, don't ask me the name of this fish. I seldom know what sort of fish I'm eating. Most of my fishes are given to me (mostly from Lundu), and I never bother to find out their names. If I can use any variety of fish (blindly), I don't see why you can't.

INGREDIENTS
---
2 tbsp fermented black beans

---
1 chilli (diced)
---
3 clove garlic (diced)
---
1 fish
---
Salt & sugar

---
Cornflour
---
Spring onion (chopped)
---
Pound 1st 3 ingredients together with mortar and pestle into a paste.

Score the fish diagonally on both sides. Pat dry the fish with paper towel; rub salt

and dust with cornflour.

In a wok shallow fry until both sides are golden and crisp. Remove to a plate.

Reserve about 3 tablespoon of oil for frying the bean paste

.
Mix 1 tbsp of cornflour with ½ cup water.

Fry the paste until fragrant. Add enough water to make sauce (about 1 cup).

Add sugar to balance the taste.

Add enough cornflour water while stirring continously to form a smooth silky sauce. (Mix more cornflour water if the sauce is too watery.)

Pour the sauce on top of fish.

Garnish with spring onion.