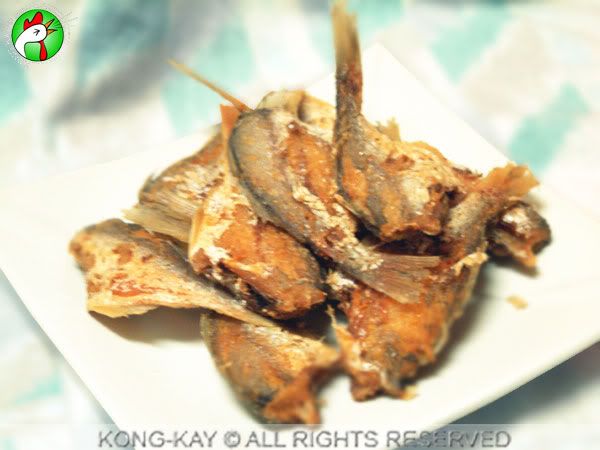 Sometimes simplicity is the key to a good grub. Take this local variety of fish -

Bak Chi.

Small in size, and not many bones. All it takes is lightly salt the fishes, and they are ready for frying. Shallow-frying is another option, but I choose deep-frying to give them the crispy crunch.
In a wok, pour in enough oil to deep-fry the fishes.

Put a bread crumb into the oil. Once it fizzles and floats to the top, it's ready for frying.

Make sure the fishes are pretty dry to prevent any oil splatter. Slide in the fish one at a time on medium heat.

Don't over-crowd the wok, and the fishes are submerged in the oil.

Cover the wok for about a minute or so. Once the color changes to yellow, they can be flipped over. Cover.

You probably need to turn over a couple of times till they are light brown on both sides.

Remove and drain on paper towel.
The fried

Bak Chi

can be taken on it s own, or dipped on sliced chilli and light soy sauce. They make good accompaniments for beer.