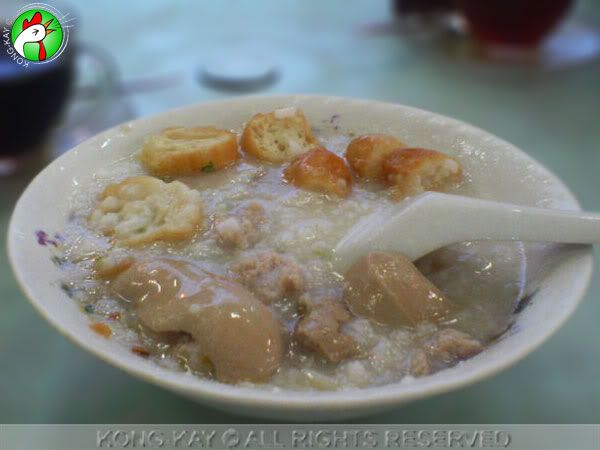 I have written quite a bit on pork porridge before, but this is the definitive "Teochew Bak Muay". It's the way the porridge is cooked - you still see the whole strain of rice, yet it's a bit gooey (but not the same consistency as Cantonese Chook). Others tend to be on the opposite extreme ends - either too much like rice, or too much like Cantonese Chook.

This is one of the oldest streets in Kuching. The earliest trading settlement in Kuching started next to the banks of the Sarawak River, which leads the South China Sea. Carpenter Street is one street behind the main thoroughfare then. As the name suggests, this is where the craftsmen ply their trade. Nowadays only a few furniture stores remain. On the adjacent China Street, a few metal smiths still carry on their practicing their skill.
This porridge stall is located at the "Lau Ya Khiang", which is actually an open-air theatre, with the stage at the back. Its stage shows, couple times per year, are meant for the deities in the temple across the street. (Incidentally, a few shop lots from here is where I started my career.) There are a few other stalls here selling Kueh Chap, Sarawak Laksa, drinks, Lek Tau Suan (dhal) and Kolo Mee. In the afternoon, a different vendor will take the place of the porridge stall, and sells fish balls and stuffed beancurd, and pork satay (meat on a skewer). In the evening, the Kueh Chap stall sells braised duck/porridge and fish and shrimp soup, and the last stall next to the stage which opens at night does à la carte Chinese home-cooked dishes.
The porridge stall is run by 2 brothers (the father has retired quite sometime ago) – one does the cooking while the other does the preparation (adding the soy sauce, msg, Chinese fried fritters and garnishes) and serving. There's another elder brother who comes in only early in the morning to minced the pork using cleavers the old fashion way. They start prep work at 4 am., and I had breakfast here before 5 am. a couple of times, while the other stalls had not commence. They used to cook the porridge using charcoal clay stove, but it proves to be too slow for present days' customers, also the fire blackens the pots. The porridge comes with pork meatballs, kidney and liver (upon request sliced fillet pork, and/or raw egg [cooked in the hot porridge in the bowl]). Like most Teochew cooking, the porridge is "cheng-cheng" (clear), and it's a good start to rev up your tummy in the morning.