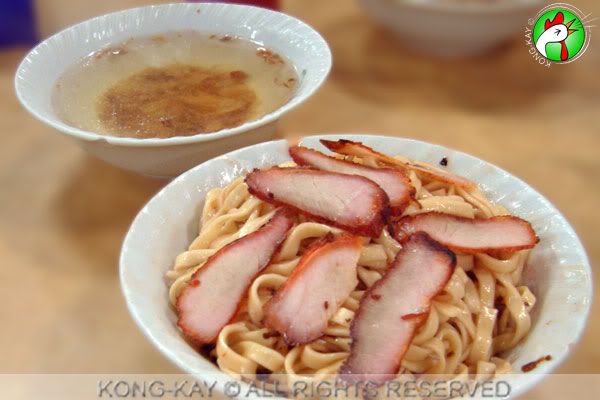 I stumbled upon this place a few trips back......I was searching for kangkong fried with pig's blood and porridge as in the old market. Somehow, I never managed to find it. Well, this is stall 102, operated by 2 old folks. They were formerly at the alley next to Chartered Bank, then corner coffee shop opposite Hock Hua Bank at Central Rd. (1 year), then back to Chartered Bank ('cos the "tawkay-kia chin niaw-chee") until relocated by the council to the present location. They have been in the business for over 30 years.
Know how I got so much info? I arrived around 7:15 pm. after the Shui-Kuo-Ping, and they just set up shop; while waiting for the water to boil, managed to strike up a conversation with the old man; I always pick up tips this way, and sometimes they even let you in on a secret or two.
This Teochew stall sticks out like a sore thumb in a sea full of kampua mee stalls. Pnee [flat] Mee (or Mee Pok), as it is called here, is the only thing they serve here. You can have it plain, dark soy or 'chillied', as shown above. It comes with soup filled with Tianjin preserved Cabbage (Tang Chai). The roast pork (cha-sui) is really roasted, unlike others that are merely boiled, and with food coloring added. The noodle here puts a lot of kolo mee and kampua mee stalls from Kuching to Timbuktu to shame.