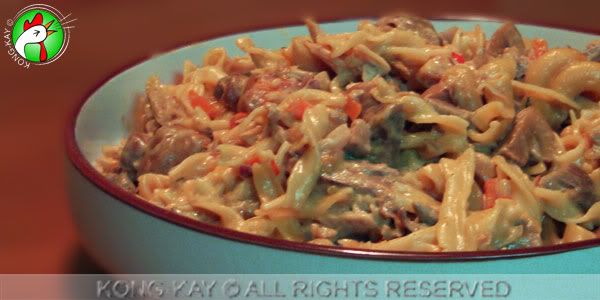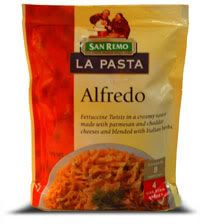 INGREDIENTS
1½ cup turkey meat (chunks)
---
3 shallots (diced)
---
1 chilli (diced)
---
1 clove garlic (minced)
---
Carrots (diced)
---
2 packets Alfredo Pasta
---
Milk
---
Water
---
I bought this ready-to-eat pasta for a rainy day - when one is not in the mood for heavy cooking or eating out. They cost RM3.95 each, and I haven't tried them before.


Method

Cook the pasta (the packaging says serves 4, but when cooked it's more like 2. Hence 2 packets were used) as per instruction by adding milk and water. It has its own dehydrated cheese and seasoning.

Cut the turkey into chunks, so they won't crumble easily when fried.

Minced the garlic and diced the shallots (ran out of onion) and chilli.

Fry items in 3 over medium heat with a little bit of oil in a frying pan, until fragrant and a bit soft.

Add in the carrot bits and then the turkey chunks and quickly toss them around.


Pour in a bit of milk to moisten the meat.

By this time the pasta would have been cooked.

Finally incorporate the cooked pasta with the turkey.

Cooking and preparation time 15 minutes. Honestly, those ready-to-eat stuff don't taste that great. Cook your own fettuccine, and melted butter with milk

and grated

Parmesan

cheese

with a bit of chopped parsley will just do the trick.
* FEEDS 4