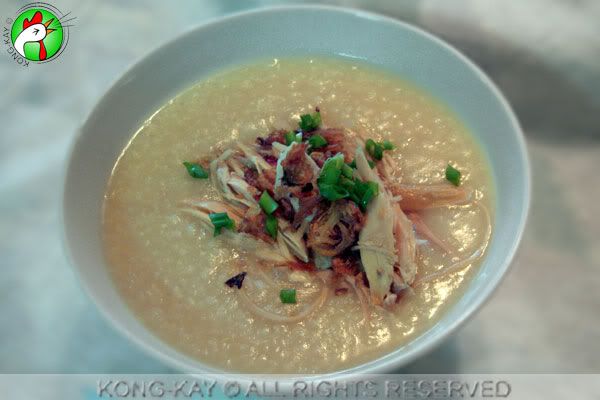 Chook

is Cantonese for porridge, whereas Hokkien call it Muay. You may recall I've made similar porridge sometime back. However, this time I manage to cut the cooking time down, by going full trottle. I used the leftover soup as base stock for the porridge.


First wash and soak 1 cup of rice for an hour.

Bring turkey stock to boil.

Put in the soaked rice on high heat, then simmer for 45 minutes on medium heat.

(Ratio of water to rice : roughly 20 to 1)

Stir occasionally to avoid burnt rice. Add additional hot water if required.

Turn heat high for last 15 minutes, stir continuously to achieve a gluey consistency.

Check for taste. Add fish sauce if required.

Break turkey into chunks as previous recipe.

Spread generous helping of turkey on top of porridge before seving. Garnish with fried shallots, spring onion and thin strips of omelette.
* 4 servings