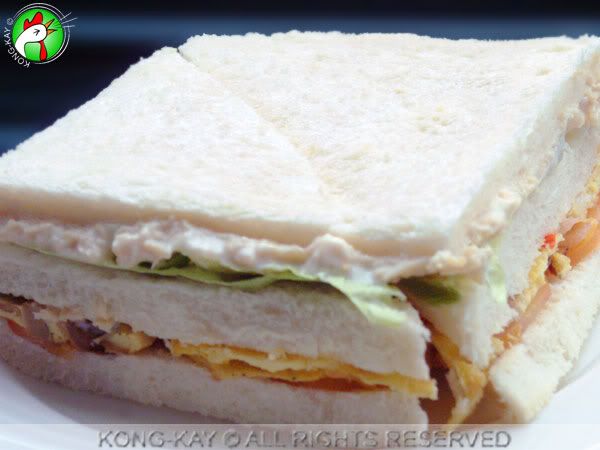 MAYO MIX

---
Turkey Breast

---
4 tbsp Mayonnaise

---
2 tbsp Sweetened Creamer

---
A dab of Wasabi

---
2 tbsp Lemon Juice

---

OMELETTE

---
2 Large Eggs

---
Button Mushroom (diced)

---
Chilli (deseed & diced)

---
Pinch of Salt & Pepper

---
---
Tomato (sliced)
---
Lettuce
---
METHOD
Mix mayo in a bowl. Adjust the wasabi (Japanese horse radish) to your liking.

Cut turkey breast into thin slices.

Incorporate 1 & 2 together.

Beat eggs lightly and add a pinch of salt and pepper.

Heat non-stick frying pan. Add oil, and fry chilli and mushroom. When done, spread out over the pan before pouring in a thin layer of egg. Flip over once you're able to slide the egg.

Take 3 pieces of bread: Spread turkey mayo evenly on one. Add lettuce on top before topping with another layer of bread.

Spread a thin layer of

mayonnaise on top of second bread. Assemble omelette with tomato slices on top. Top off with the last piece of bread.