Usually fresh fish is reserved for steaming, where one gets to taste all the natural goodness flavor of the fish. Some people go to the extreme of steaming fish fresh out of the pond or tank. You can't get fresher than that!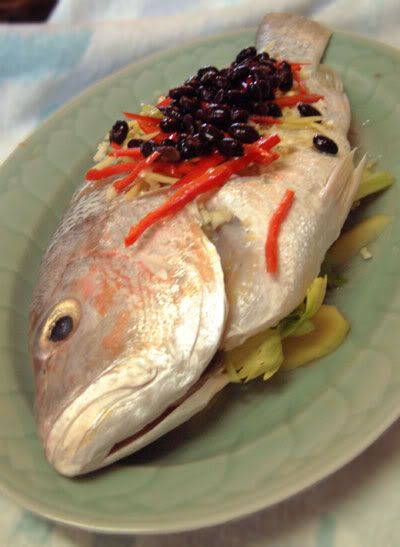 INGREDIENTS
---
1 fish
---
2 tbsp fermented black bean
---
celery leaves
---
1 chilli (Julienned)
---
1 large knob ginger
---
light soy sauce & sesame oil
2 stalks spring onion (Julienned)
---
METHOD
---
In a covered wok or steamer, boil enough water to steam the fish.

Clean the fish. Score both side of the fish, and lightly salt the fish including the opened tummy.

Thinly slice the ginger, and lay them out in the plate, where the fish will sit. Julienne the remainder of the ginger, which will be place on top of the fish's body.

Cut off te leafy bits from celery sticks. Coarsely chop and stuff them in the cavity of the fish, plus a bit of ginger slices..

Place the fish onto the plate, on top of the ginger slices.

Spread julienned ginger and chilli evenly on top of the fish. Then top off with fermented black beans.

When the wok or steamer is ready, put in the plate of fish to be steamed for 20 minutes.

When done, quickly uncover and drizzle sesame oil and a bit of light soy sauce on top, then julienned spring onion. Cover and steam further 3 minutes. Serve.



---