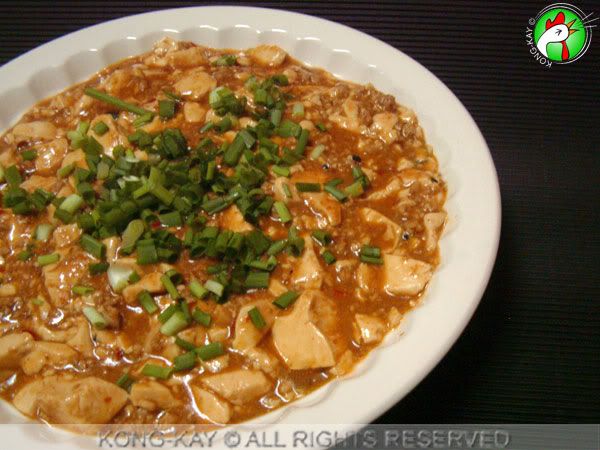 This is one hot Szechuan baby! It's all in the sauce... you can make it as hot as you want by adjusting the amount of dried chillies. Some people likes leaving the Szechuan peppercorn in the dish, but I prefer mine out, so long as the fragrance is in the oil.

I use a Taiwanese brand of hot broad bean paste, under the banner of A-A-A by San Yin Foods Co. Alternatively you can use Yeo's salted soya bean (2 tbsp) minced with dried chilli (2-5 pcs), sugar (2 tsp) and sesame oil. (No royalty received from brand plugging)

If you want fancy presentation of the dish, cut the tofu into nice cubes. Whereas in my case, I just plunk in the whole slab into the wok as I fry, and then use the spatula to cut into large chunks. Tofu is a fragile wobbly mass; it breaks easily during the process of frying. Don't do a Freddy Krugger number on it!

MINCED PORK MARINATE

---
100 gm. Minced Pork
---
1 tbsp dark soy sauce
---
1 tbsp light soy sauce
---
1 tsp white pepper
---
1 tsp corn flour
---
1 tbsp cooking oil

---
Mix the above ingredients and set aside for 15 minutes before use.
If you can't get hot bean paste, use 2 tablespoon salted yellow beans and 3 to 5 dried red chillies (soaked); pound or blend them into a paste.



METHOD

---

Put in 3 to 4 tbsp of cooking oil on a heated wok. When the oil is hot, put in the Szechuan peppercorn, stir quickly, and remove from oil once fragrant.

Fry garlic and chilli until fragrant (golden garlic), put in the bean paste; quickly stir to prevent burning.

Add minced pork to mix with the chilli paste. Use spatula to flatten the meat to spread it flat. Scoop the spatula to the bottom of the meat, twist your wrist to turn the meat. Toss and turn until the meat is no longer pink.

Dump the whole chunk of tofu into the wok mixture. Use the spatula to cut into fairly large chunks. Fry using the toss and turn method. The tofu will break into smaller pieces in the process. Some people will end the cooking here by adding salt to taste, leaving an amber oily finish to the dish.

I like a saucy number, thus I add a cup (or more) water, then the seasoning, plus the cornflour starch mixture to thicken the sauce.

Garnish with spring onion before serving.

---







INGREDIENTS


---

2 tbsp Szechuan pepper


---

2 clove garlic (minced)




---

1 red chilli (finely chopped)


---

1 slab silky tofu


---

2 tbsp hot broad bean paste


---

water

---

cornflour starch mixture

---

salt

---

2 stalks spring onion (chopped)

---