This café is situated on the right side of Carpenter Street (coming from General Post Office) before the Kuching Hainan Association. It doesn't have any English name of its signboard – only Chinese inscription. Between it and the association building is an alleyway that leads to a car park behind.
This is a-mother-and-son operation, while the dad peddles his imported Chinese goods at the 5-foot-way of the Hainan Association. The mum sells beef noodle and curry noodle, and the son does ready-to-eat Chinese lunch. There's another stall by the alleyway that sells pork leg rice (nothing to shout about), and a lady selling marinated cuttlefish in front the café.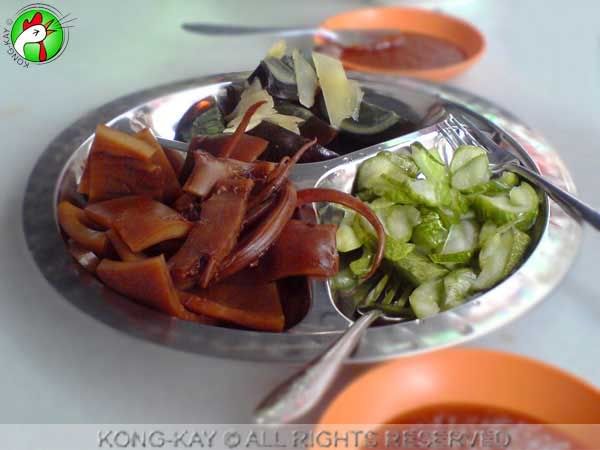 The cuttlefish platter comes with cuttlefish (left), pickled cucumber, and hundred-year egg with pickled ginger [optional order] (background). The orangey-brown cuttlefish, which is chemically processed, is blanched and then soaked in soy-sauce mixture. It tastes good on its on, but even better with the condimental chilli sauce. Word of caution: take this dish in moderation; you never know the chemical content that goes into preserving the egg and cuttlefish.
This beef noodle tastes quite similar to the more famous counterparts of "Ah Mui's" and the one at Jalan Green Hill, but not as renowned. The one you see above is flat rice noodle (koay tiaw) with lean beef and preserved salted vegetables, plus bean sprouts. I don't know what goes into the making of the soup except beef bones and dark soy sauce, hence the dark color of the soup. There isn't a strong hint of herbs and spices like the Vietnamese

Ph
ò

. The chilli condiment is a must-dip; it's different from the Chinese/Taiwanese chilli sauce. It consists of ground chilli with galangal and vinegar. One can order the "works" (

Chainģ

) which comprises of braised beef (muscles, tendons, cheap cuts of meat) and tripes.