I got this Moroccan Chermoulla sauce as a gift. Without a thought, I tried it with this pork
(
Schweineschnitzel or whatever you want to call it). It compliments the dish well. You can try with whatever sauce you fancy.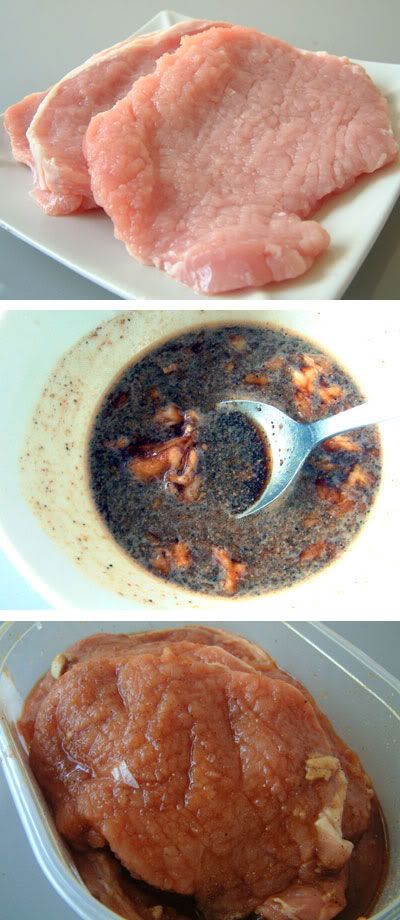 PORK MARINATE

---
6 pcs. Pork Fillet (about 125 gm.each)
---
3 tbsp Kikkoman soy sauce (naturally brewed)
---
9 tbsp Mirin
---
1 Cloves Garlic (thinly sliced)
---
1 tsp White Pepper
---
1 tsp sugar

---
Tenderize the

1/4" thick

pork cutlet by tapping with the back of a knife/cleaver.


Mix the above marinate until sugar dissolves. Add more soy sauce or Mirin if necessary, according to your taste.

Marinate the pork thoroughly. Leave in the fridge for at least an hour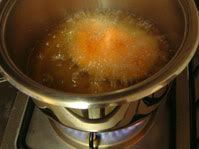 PORK COATING AND DEEP FRYING

---
Dip pork cutlet into corn flour, then 2 lightly beaten eggs, and finally bread crumbs. Shake off excess coating.
Drop coated meat into a pot of hot oil on medium heat.
Fry until golden brown on both sides.

---
| | | | | |
| --- | --- | --- | --- | --- |
| | | --- | | |
Over low fire, melt butter. Add in garlic. Stir to prevent burning. Before garlic turns golden, remove from heat.

Boil peeled potatoes in salt (2 tsp) water until they can be easily pierced through with a folk.

Drain water. Mashed potatoes and slowly add milk (milk stated is a rough indication) until creamy. Add all the butter, saving 3 tbsp. for the snow peas. Put in salt to taste.

Snip off both ends of snow peas. Blanch in boiling water for 30 seconds. Remove and put into heated remaining garlic butter. Toss to fully coat the snow peas.