This dish reminds me of a friend, who guided me through my first noodle soup from scratch and put me on a culinary path. You stalkers out in U.K., any idea how to lock down on an A.WO.L. person, short of putting mug shot on a milk carton? Do drop me a line. Last sighting – Glasgow, and last communication H.K.

For those who hate fermented beancurd (like I do) for its pungent smell will be pleasantly surprised with this dish. Its strong flavor is asorbed into the chicken, while at the chicken lends a sweetness to the sauce. You'll be hard pressed to detect any hint offermented beancurd with the end result.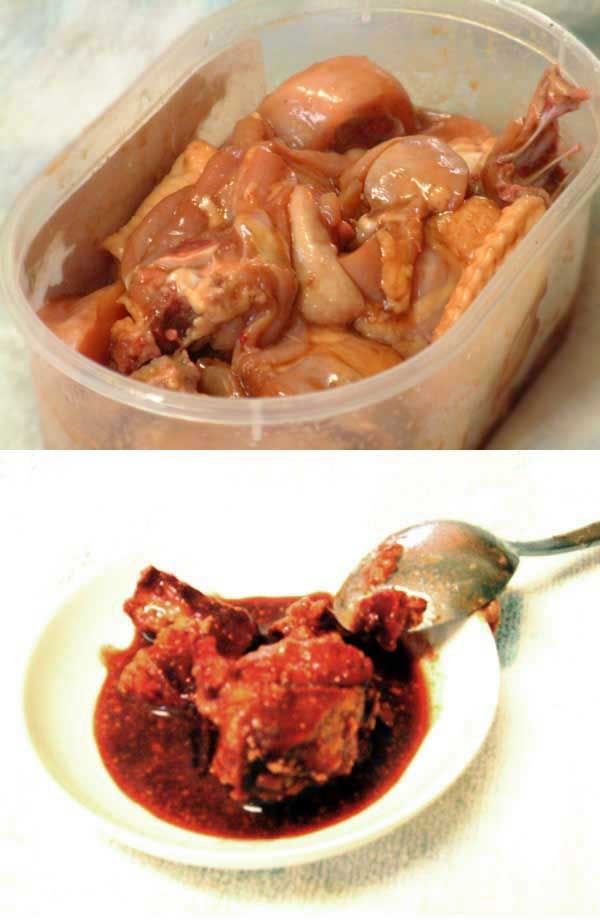 CHICKEN MARINATE

---
½ chicken (cut into bite-size)

---
2 tbsp dark soy sauce

---
2 tsp light soy sauce

---
1 tsp white pepper

---
1 tsp cornflour

---
1 tbsp cooking oil

---


SAUCE

---
1 clove garlic (minced)

---
2 cubes fermented red beancurd (tau ju)+ liquid

---
2 tbsp water

---
2 tsp sugar

---
1 tbsp cornflour (thickener)

---
½
cup water
(thickener)
---
METHOD
---
Marinate chicken and set aside for

½

hr. before use.

Put the fermented beancurd into a small bowl, and add a couple tablespoon of water, plus the sugar. Use spoon to crush and mix it into a paste.


Put 3-4 tbsp. oil into a pot once hot,

throw in garlic, and quick stir around for few seconds. Before the garlic turns golden, put in the marinated chicken. Toss the chicken to get it cooked on all sides before putting in the fermented beancurd paste.


Let the chicken absorb the paste

thoroughly before

adding enough water to cover the chicken. When the liquid comes to a boil, lower the heat, and let it simmer for 20 minutes or so with lid on.

Add salt to taste. Then thicken liquid with cornflour starch (the thickener above is a guide; adjust to desired consistency). Ready to serve.
---