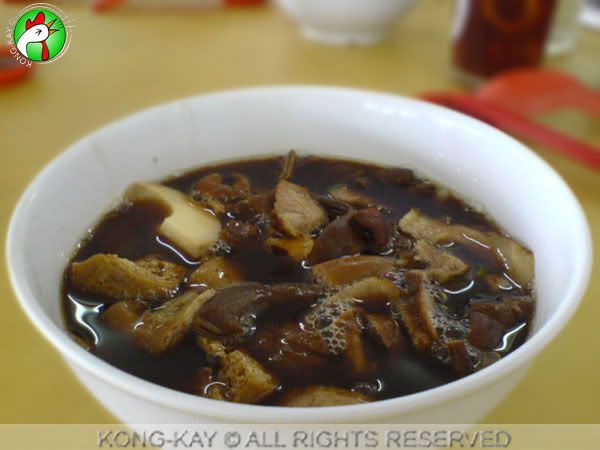 Kueh Chap

is akin to the pork leg rice (Too-Kar-Píun). In the respect that they both share the same offerings - offal. Lots of them... more so than the pork leg rice. Apart from lean pork meat, there are belly pork, tongue, ear, skin, intestine, stomach, fried beancurd (

Tau Pok

) and stewed hard boiled egg (Loh Nũng), plus the

Kueh

, which is flat rice noodle, but broader. The chilli dip that goes with this dish is

Balacan Chilli

with white vinegar. The soup, with all the 'spare parts' adding to its flavor, is simply divine.

Don't be put off by the word "offal". I had visitors from New Zealand recently (one is a first-timer here) who relished this dish... satisfied until the last drop. Like in the army, it's a "Don't ask, don't tell!" policy if you want to enjoy the good things in life.

This
café is on the second street on the left as you turn into Jalan Batu Kawa from the 3rd. Mile roundabout. The

Kueh Chap

stall used to be in the first coffee shop on the first street. It's more spacious here, and away from the bustle of the market street. They soup they serve here is unadulterated, unlike others where they add in five spice powder. One other thing, be sure you order the 'works' when you're here..... anything else is not complete!