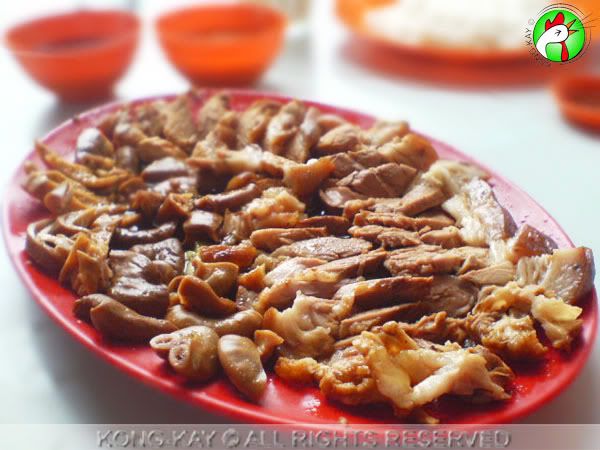 The Teochew Pork Leg Rice in Kuching is different from that of Thailand, where only pork leg is used; here they served the whole enchilada - pork leg, trotter, stomach, intestine, bladder, tail, with hard boiled eggs, and hard taufu (taukua). They are all cooked in soy sauce broth, much like soy sauce chicken. Their accompaniments are vegetable curry and soy sauce broth, pickled cucumber and balacan chilli condiment.
This stall is an all-girls' operation run by the daughter of Lau Siong. Lau Siong set up his first shop at the present Chai Song Soon coffee shop, the first shop at Jalan Padungan next to the big white cat statue. Then he moved with his son to the opposite end of the street at Yam Seak Café. He has since retired. The daughter just recently joined the family franchise.
What do I like about this stall? It all boils down to the preparation of the intestine. An ill-prepared intestine tastes like shit, literally.