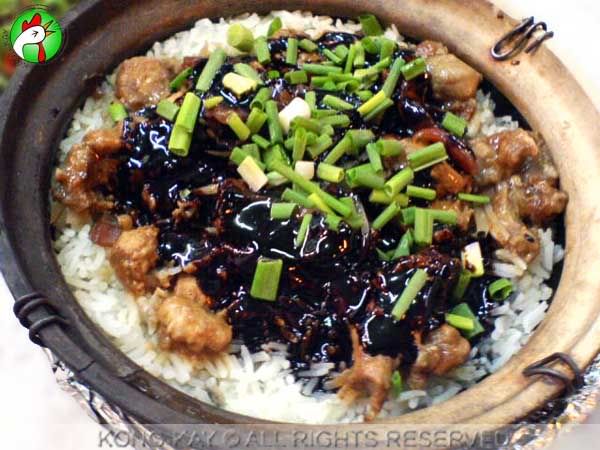 This is rice cooked in claypot over charcoal fire, topped with chicken, Chinese sausage, salted fish, or any of the combination you prefer. Charcoal-fired rice beats a gas-flamed one anytime, hands down. Charcoal being the preferred method because the high flame heats up the whole parameter of the claypot, not just the bottom only. Unlike the briyani or paella, the marinated chicken, sausages and salted fish is put on top of the rice when it's almost done. It's cooked by the heat and steam of the rice in the last 10 minutes or so, thereby allowing the flavor of the topping to drip onto the rice. Finally a concoction of soy sauce graces the whole dish before it's being served.

As the name of the shop suggests, this place specializes in Chinese Barbecue pork and duck. Apart from those, its menu has one-plate rice dishes as well as à la carte meat and vegetable dishes as well as steamed soup .
This place is in the first block of shop houses facing Tun Jugah Mall. Parking is a bit problematic; cross the roads at your own perils, as zebra crossing and traffic light are non-existence. Or you could press your luck by parking along the yellow line outside the premise. The risk is worth taking.

---