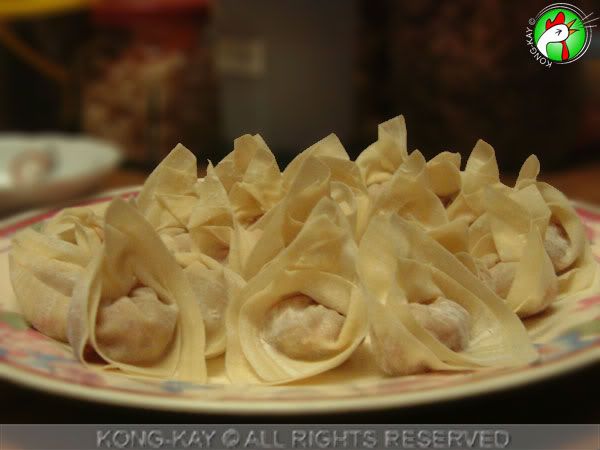 Instead of having just Wonton soup, try a variation instead. A word of caution, some delicate tummies might not be able to stand the chilli oil. Tone down on the chilli if you have to. Use light oil by all means. I mixed mine with a little grape seed oil. The idea here is to get an amber colored chilli infused oil to use as a dressing for the Wonton. The filling for the wonton is the same as previous post, and so is the cooking method.



Alternatively you can use commercially bottled chilli sauce (chilli, sugar & vinegar), light soy sauce, msg (optional) and lard for this dry wonton recipe.




INGREDIENTS

---
1 cup vegetable oil
---
5 cloves garlic
---
3 shallots
---
10 dried chillies (seeded)
---
1 tbsp sugar
---
1 tsp salt
---
Mince in a blender or pound all the above ingredients into an oily paste form.




Bring all the ingredients to a sizzle in a pot over low heat.

Stir constantly.

If it gets too hot, remove from heat. Return to heat to get a golden color on the garlic and a crisp texture.


Set the chilli oil aside once done.

For every 10 cooked Wonton (thereabout), toss them with 2 tbsp. light soy sauce, and 1½ to 2 tbsp. of chilli oil. (Optional: ½ tsp. msg)

Garnish with fried shallots and spring onion before serving.