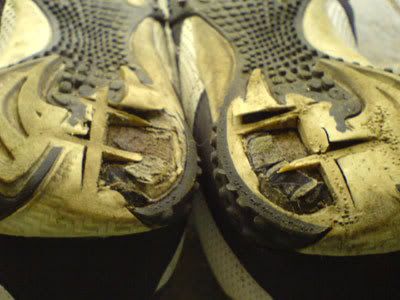 Shopping for (exercise) walking shoes... my 4th. pair for the year. I don't walk, I shuffle. Well, got a pretty good bargain. RM50 for a pair of Puma. Looks like the real McCoy with its green box. The thing about this mall is its lack of eatery, save for a KFC and Pizza Hut and a grand restaurant.

This one is tucked at the corner of the 5th. floor. It bills itself as a Korean eatery with its setup, but has an eclectic selection of local and Western food. I call this a "Yankee-Doodle" operation - 'Put a noodle on his hat, and call it "macaroni"!
Ordered a Sushi appetizer; notice the wrapping? Need I say more. The beef rice was dark as tar (even my lightening the pic. doesn't help) with onion and leek. The fried rice is heavy on sesame oil, with diced carrot and kernels of corn, plus tiny bits of discolored turkey ham.

Verdict: Mana bagus?!!!