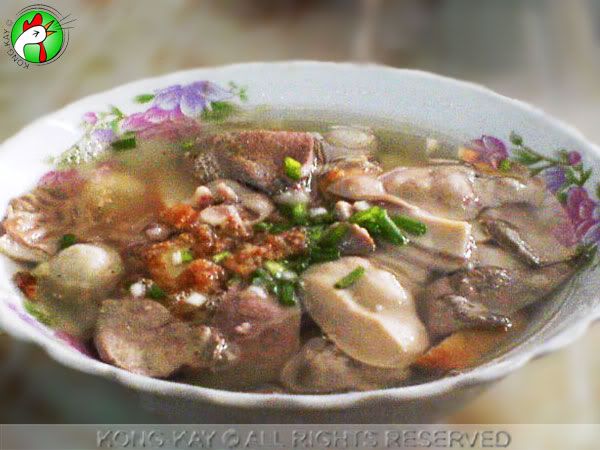 People who frequent this haunt have only one thing in mind… Chain
ē
! That's everything (of the pig's body) except the kitchen sink; there is liver, kidney, stomach, tongue, intestine, pork belly, minced pork, heart, Char-Sui, fishballs, fried fish paste and tiny shrimp, seaweed with preserved salted mustard green. The Kolo Mee, Koay Teow plays second fiddle to this
Chain
ē.
You have the option to order plain rice to go with it.
The popularity of this establishment is evident from the crowd outside waiting to be seated. It's not only popular among the Chinese, but Bidayuhs (local natives) are known to have traveled from as far as Serian and Bau to have a taste of the Chainē. We have a name for this place: "Zuah-Zuah-A-Mee" (hot hot noodle) because the place is like a suana.You'll come out sweating.
The rule of this place is that whatever empty seat is available; stake your claim to it - even if it means sharing a table with strangers. Rule 2: Don't order unless the chopsticks, spoon and chilli/soy sauce saucer are placed on your table. There is a very efficient system of orders taking in place - thou shall not be served until thy table are ready to be served! No ifs and buts, unless you want some friendly sarcastic Teochew rebuttal! So be prepared to wait and sweat.

* Jalan Bishopsgate is the side street between Carpenter Street and Main Bazzar. Seating are available at the Bishopsgate Coffee Shop next door, which is run by the "Tua-Pui-Soo's" grandson.