This is a home favorite. I think it's a precursor to venerable Too-Ka P'ng. You can use any cut of pork. It's one of those dishes you have to use your "agak-agak" (approximate) instinct. - no measurement require! You want more eggs, pile them on! More Tau-Kńua? No problemo! (The hard beancurd is Tau-Kńua [Hokkien].) Scared of Nasfuratu, add more garlic. You get my drift?









---

Dark Soy Sauce

---

1 Knob Garlic

---

2 tsp. Sugar

---

2 pcs. Hard Beancurd


---

Salt

---



METHOD
---
Rub belly pork all over with salt and cornflour; massage a bit. Rinse off. Repeat. Rinse the spareribs (cut to about 3" length).
Pat dry the belly pork and spareribs, then marinate them with dark soy sauce; about a cup or so. Don't worry about using too much, it will be put to good use later. Let it sit in the fridge for at least
½ an hour.
Remove the outer skin of the garlic, leaving only a layer with the whole clove. Wash.
Hard boil the eggs. Remove the shell when cool. Set aside the whole hard boiled eggs.
Remove the meat from the marinate. Let it drip dry, so it won't splatter when it's fried. Reserve the soy marinate.
Heat up the pot, add 6 tbsp. of cooking oil. When hot, put in the meat and sear it on all sides.
When seared, add the reserved marinate, and let it be absorped into the meat.

Add in 2 tbsp. sugar to be coat and caramelized with the meat.

Add more dark soy sauce if required. Lower the heat to avoid burning.
Let it simmer in the soy sauce for 5 minutes over low heat before adding just enough water to cover the meat.
Submerge the garlic cloves. Simmer (covered) for another 30 minutes. In the last 15 minutes add in the whole eggs and beancurds; tuck beneath the meat, to absorp the soy sauce. Finally add salt to taste if required. However, if it's too salty add boiled hot water to adjust the taste.
It's best to let the meat and the rest of the stuff sit in the sauce for a few hours before serving. The eggs and beancurds will have a nice color to them, plus the soy sauce flavor.
Cut the belly pork to 1/4" thick before serving.
---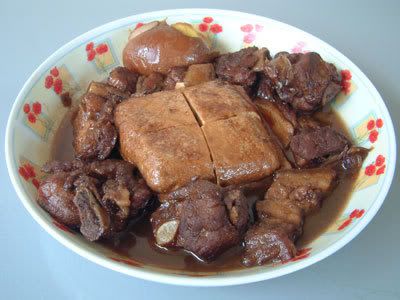 ---