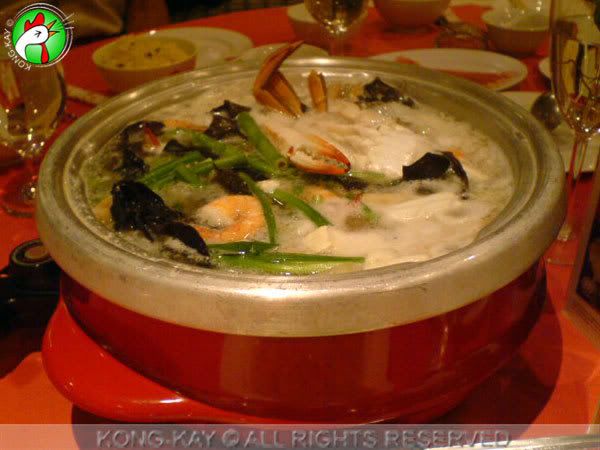 Had a treat from Aunty Maggie after the launch of her new book, "4 Eyes". This Thai restaurant is nestled on the 3rd. floor of the Crowne Plaza Hotel. The all-you-can-eat buffet is price at RM40 per person. It's kind of expensive, but the quality of the grub you get is unquestionable; you get real seafood, not the processed crabmeat or squid balls (read 'fish').

We opted for plain chicken soup for the steamboat, rather than the Tom Yam; somebody rather not temper the tummy for the next day's long flight. All the initial dishes of raw food were delivered and put into the boiling vat for us. I would have preferred we did it ourselves, because some of the stuff like shrimps and squid were overcooked by the time we got round to them. The other gripe was that the staff were attentive considering that there were only 3 tables the whole night, and one table left 10 minutes after we arrived and the other half way through our meal.

To get your money's worth, eat like the Japanese and Taiwanese do; eat all the seafood and whatever first, then savor the 'flavored' soup with the noodle last. That way, your tummy won't be filled with water first, leaving you hungry in half an hour's time. What's so different about Thai Steamboat from say Chinese or Japanese? Nothing much except the dipping sauce. It's tomatolicious!!!