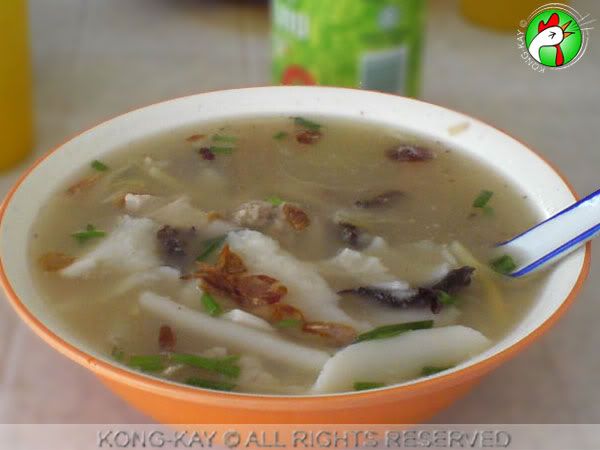 This corner shop is located at the first block as you enter Jalan Batu Lintang from Jalan Simpang Tiga/Jalan Tabuan/Jalan Mendu intersection. It's one of the early shops that serves

Tien Mein Hu

(
wok-scrapped curls
)
before the mass Foochow invasion of Kuching in the 90's.
This dingy-looking place is run by 2 sisters. They sell Kampua Mee and the likes. Frankly after all these years, I haven't tried all their other stuff except the
Tien Mein Hu.

It

lacks the processed cuttlefish and fishball. Instead it has sliced pork, meatballs, wood ear fungus (

O-Mok-Ni

)

and dried lily flower (

Kim Chiam

).
Below are the steps to making a Tien Mein Hu. 1. All the ingredients are put into the wok. 2. Pork broth is added. 3. Rice flour paste is spread around the side of the wok. 4. Once the paste is set, becoming flat noodle, it is scrapped onto the broth.