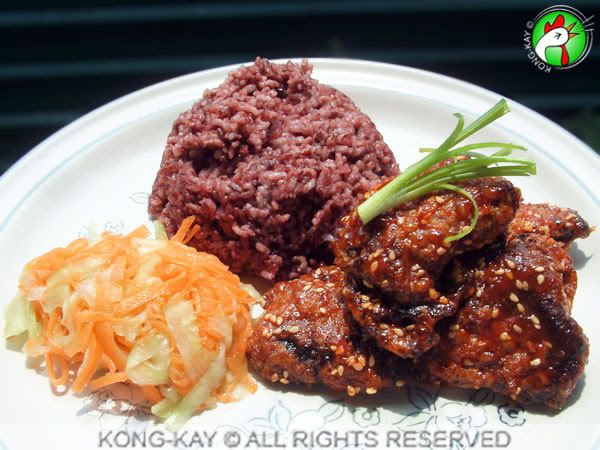 This is an Ang Moh's take on the good Ol' favorite, Sweet and Sour Pork. I first spotted this recipe in the Women's Weekly ages ago. It was a recipe for chicken if I'm not mistaken. The batter and sauce is almost identical except for minor tweaks.








PORK MARINATE




---

2 tbsp. Light Soy Sauce

---

1 tbsp. Mirin

---

INGREDIENTS




---

---

---

---

1 tbsp.

Worcestershire Sauce

---

2 tbsp. Tomato Ketchup


---




Each piece of meat measures about 3"x2"x1/4". Mix the marinade well then massage it into the meat. Leave in the fridge for a couple of hours before use.
Fry sesame seeds in a dry non-stick pan over low flame until golden brown. Set aside.
Coat meat with cornflour. Shake of excess cornflour before dipping into beaten egg.
Drop meat into hot oil and deep-fry meat until golden brown on both sides.

In a separate pan, put in the

Worcestershire Sauce, ketchup, water and sugar over low flame. Dissolve the sugar before thickening it slightly with cornstarch. Before serving add roasted sesame seeds and then drop in the pork to coat

thoroughly.