This is one simple, fast to make, soup. It owes its flavor to the dried shrimp (hay bee). Remove the seeds of chillies if you can't stand heat.

The spinach in the market comes in a bundle for RM1. I have no idea of its weight. Normally I discard the bigger stems, as I find them too fibrous. If you want the vegetable to look nice, don't over boil it; when it comes to a boil, simmer for 5 minutes (covered), turn off the flame and let it sit in the hot soup for another 5 minutes before serving.









---

3 Chilles

---

1 tbsp. Granulated

Chicken Stock


---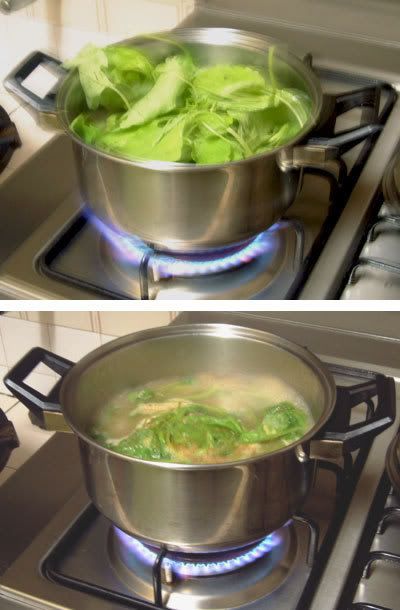 METHOD

---
Soak the dried shrimp in water to soften.




Blend the chillies and garlic first until fine.

Add in dried shrimp. Blend slightly to have a coarse texture. If you have the time, mortar and pestle are the preferred choice of equipment to used.

Add 4 tbsp. of oil to a pot on moderate heat. When hot, put in the dried shrimp paste. Stir constantly to avoid burning. Add in more oil if necessary. The end result should be amber in color (right bottom).

Pour in water, and add in the granulated chicken stock.
When the soup comes to a boil, add in the spinach.. Shove all the way down into the soup. Cover and simmer for 5 minutes, and a further 5 minutes with the flame off.

Add salt to taste before serving.

---