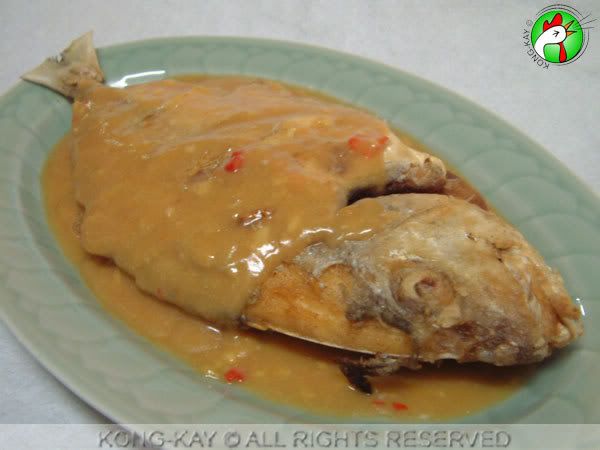 Nothing spectacular; a fast and simple one, sans of dressing. This dish is akin to the

Tau-Cheo

(bean paste) fish. All I can say is , you've got to try it to really appreciate it. Don't let the fish soak in the sauce for too long; it takes away the crispiness of the fish. Eat immediately!
INGREDIENTS

---
1 Fish

---
Cornflour

---
1 Red Chilli (finely chopped)
---
1 tbsp Miso
---
1 Clove Garlic (minced)
---
Cooking Oil
---
1/2 Cup Water

---
2 tsp. Sugar

---
Salt

---
Cornflour Starch

---
METHOD
---
Wash and score the fish. Pat dry, rub a bit of salt on both sides of the fish and the belley cavity, then coat with cornflour. Shake off excess cornflour.

Heat enough cooking oil in a wok, and deep-fry until golden brown. Remove and soak excess oil with paper towel.

Leave 3-4 tbsp. of oil in the wok. Fry the garlic together with chilli until fragrant; then add the miso paste. Mix well before adding the water and sugar.

When sauce comes to a boil, add salt if required before thickening it with cornflour starch.

Spoon sauce on top of the fish and serve.
---