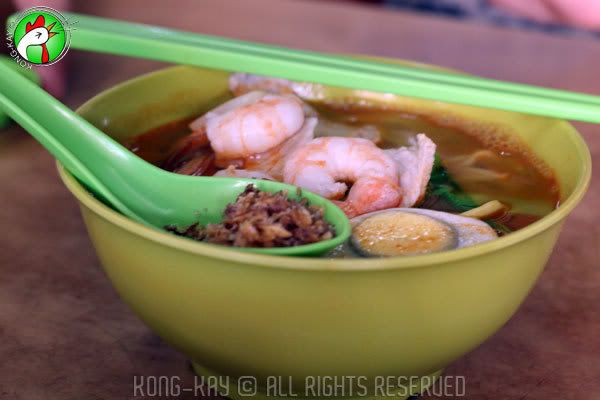 This is the real McCoy down to the person cooking it. Meet the Chews: Dad (Prawn noodle & Loh Mee), Mom (Fried Koay Teow) and 2 teenage daughters (servers). Imported materials from

Tay-Sar-Kay

(3rd. Street), Penang.

The noodle is served a little different from the Penang's counterpart. The sambal belacan is not plopped on top of the whole enchilada, but on a separate little dish to suit the local taste buds. No fancy spareribs here; just the normal slices of boiled pork fillet, boiled egg, kangkong and medium size shrimps. The taste of a good bowl of prawn noodle is in its soup, and this one doesn't disappoint; the man doesn't skimp on his shrimp soup base.

The only gripe with this stall is that the man is slow with his preparation. He'd have gone bust if he were in Penang. 'Patience' is the word!