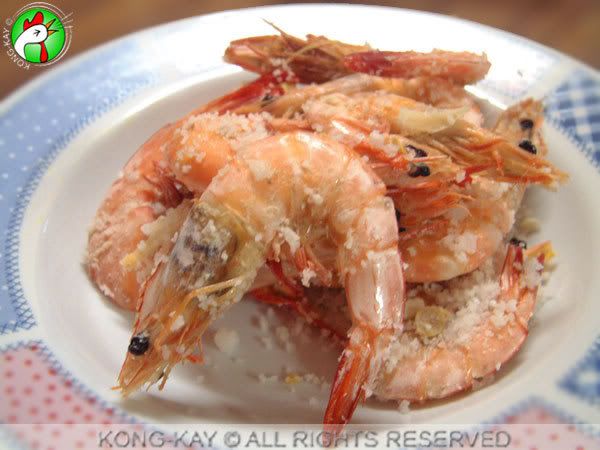 If you can hold a pair of scissors, following this recipe will be a no brainer. I safely rate this as a "No cooking skill is required here!" kindathin'.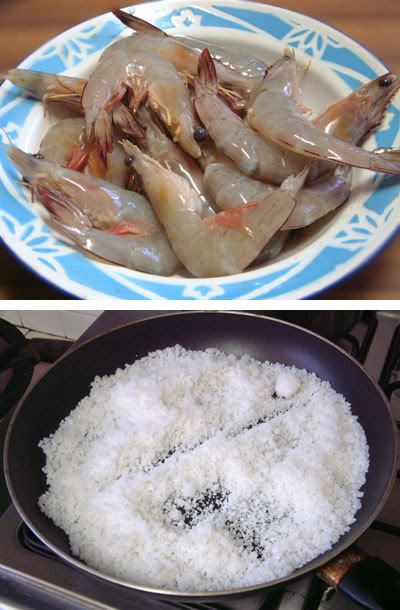 INGREDIENTS

---
12 Medium Shrimps

---
1 Kg. Sea Salt (coarse)

---
1 Lemongrass (julienned)

---
1 Cloves Garlic (thinly sliced)
---
1 Knob Ginger (julienned)

---
1 Fresh Chilli (julienned)
---
METHOD
---
Preheat the oven at 170°C/

338°F

.

Cut the lemongrass, garlic, ginger and

chilli, and set aside.




Wash and cut off the whiskers and legs of the shrimps. Pat dry and set aside.

Cut a 1½ ft. length of aluminium foil. Place shiny side down.


Fry the salt in a pan until hot and dry. Immediately place a layer of the hot salt onto the middle of the foil, forming 9" in diameter

Put the dried shrimps on top of the salt.

Pile the cut ginger, garlic, lemongrass and chilli on top of the shrimps, spreading evenly across.

Finally cover the whole lot with another layer of the hot salt. (Keep unused salt in a jar)


Fold the foil into a parcel, then place on tray and stick it into the oven and bake for 20 minutes. Serve immediately.

** Remember to set your timer, it's no fun biting into an overcooked shrimp unless you want to give your jaws a workout!



1. Pile On The chopped Ingredients 2. Closure Before Baking 3. After (Baked)
---