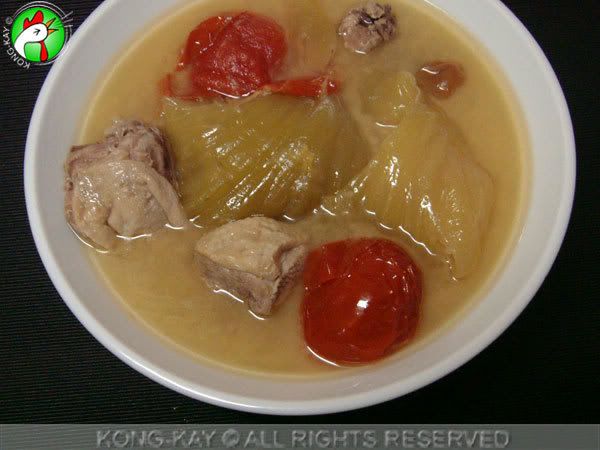 It's a simple enough; anyone can do it with one eye close. Just dump everything into a pot and boil.... That's it!
I use an electric pressure-pot to boil the soup, of which I have no control of the way it cooks. And the soup comes out 'murky'. Cooking the conventional way, the heat should be kept gentle, and the soup will come out clearer. Using slow-pot is would have been a better alternative if you have the time. The neck bones etc. at the bottom of the pot acts as a buffer for the

Kiam Chai

above.

The Kiam Chai gives it a sourly salty flavor. The S'ng Poi lends a sour taste as well; the amount used is up to your liking. Tomato is optional; it adds color to the dish. The soup tastes better over time after a few reheats; add a bit of water to compensate for moisture loss due to evaporation.









---

1/2 Head Kiam Chai (Mustard Green)


---

6 Preserved Sour Plums (S'ng Poi)

---

2 Whole Tomatoes




---

2.5 L. Hot Boiled Water


---

Salt

---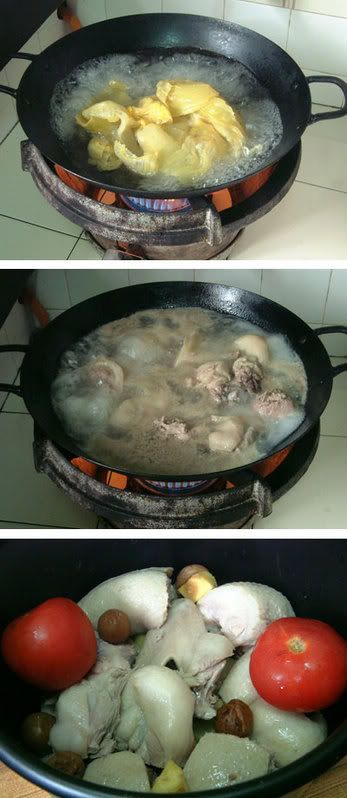 METHOD

---
Snap off the leaves of the Kiam Chai and wash. Blanch in boiling water. Set aside.
Cut the duck in halves. Chop the neck, webs, tip of wings and spine into chunks. Blanch and wash, then put in the bottom of the pot.

Put the blanched Kiam Chai leaves on top..
Cut 1/2 the duck into bite size. Blanch and wash. Lay on top of the Kiam Chai.


Put the rest of the ingredients on the top layer before pouring in the boiled hot water.

Bring the pot to a boil and simmer in moderate flame for 1 hour covered. Add salt to taste.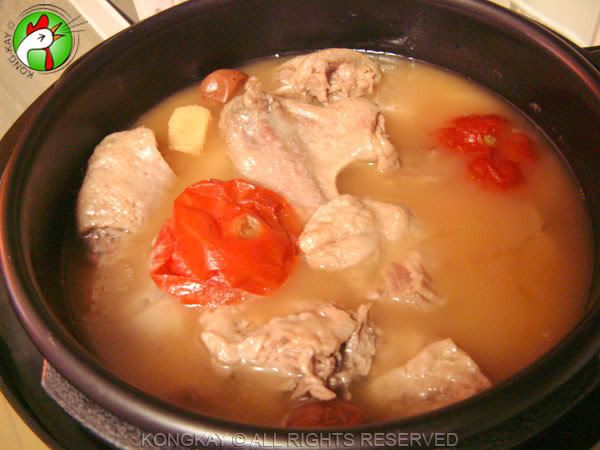 ---