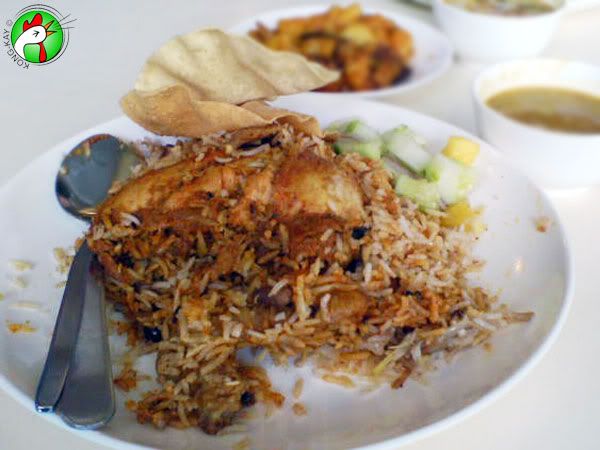 This Indian curry house occupies 2 shop houses, thus it has a spacious sitting capacity. It's a Chinese owned entity, employing ethnic Indians to do the cooking. It serves an array of cooked Indian favorite dishes on chafing dishes, apart from the made-to-order fish head curry. Its range of food is what one might expect from an Indian fast food restaurant.
For my lunch I had a quick one: Nasi Byrani. It's supposed to be saffron rice with chicken, but I think it's more likely tumeric powder as a substitute. Have you checked the price of saffron lately? Anyway, I was nibbling away at the quite tasty rice together with the chicken thigh, of which I could only finish half the potion. In looks, the chick was appetizing; however, it was a different story taken on its own without the rice. For a thigh, it tasted more like chicken breast, rough and dry; all its juice was sapped dry, and it was actually voided of any taste (salt or any spicy rub). I think the rice stolen its thunder.

The restaurant is at the shoplot before

Tsui Hua Lau

Restaurant, or after the steamboat place (Hornbill or Nimoy, I forget).