This is baked as opposed to fried..... less splatter. You can use Thai Red Chiili Paste if you have any, otherwise the recipe is below. The use of banana leaves to wrap is the same as using aluminum foil except the leaves infuses some of its flavor onto the fish.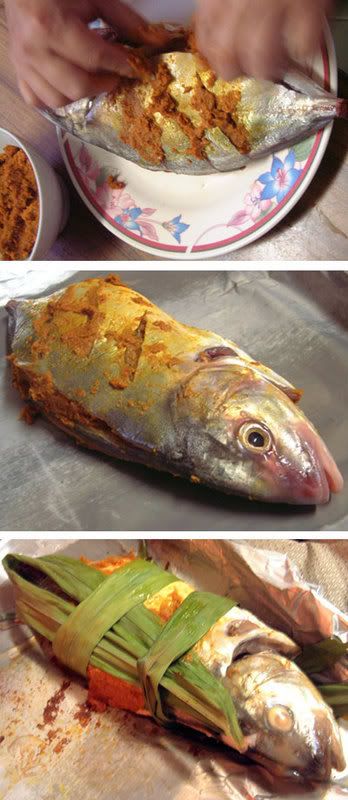 INGREDIENTS

---
12 Shallots

---
6 Red Chillies

---
3 Sticks Lemongrass

---
3 Cloves Garlic (thinly sliced)
---
10 gm. Galangal (julienned)

---
10 gm.Belacan (Shrimp Paste)

---


METHOD

---
Cut and blend all the ingredients into a paste.
Fry the paste over low flame until fragrant. Add 1 tsp. of sugar and then salt to taste. Set aside and let cool.
Pre-heat the oven at 170ºC.
Slit the fish across from the top horizontally until the opening reaches the spine. Repeat the other side.

Make 3 score marks vertically on both sides of the fish.
Lightly rub salt on the fish and its cavity.

Stuff the slits, score marks and the cavity with the cooled sambal.
Wrap the fish with banana leaf (or in my case pandan leaves 'cos there ain't no banana today).
Pop into the oven for 20 minutes.
Remove the foil/leaves and top-grilled to the max. until the skin is crisp. Turn the fish, and repeat on the reverse side.

---