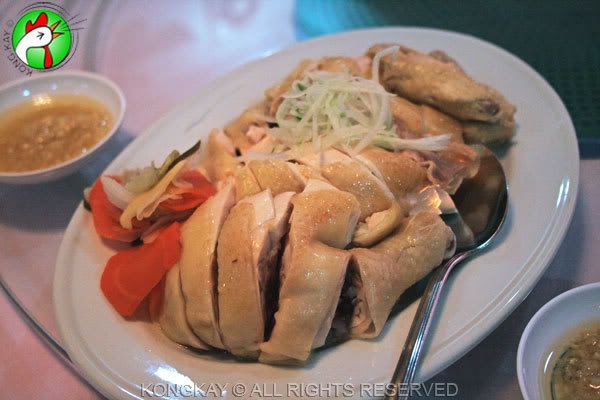 This restaurant is a hybrid restaurant being that its owner is Cantonese/Hainanese. But then it does do nice dishes that are distinctively native to this township; Foochow fares. This is a full fledge restaurant that caters for wedding etc.

Therefore it's quite surprising to find that it's famous for its Hainanese chicken rice, of which is mentioned by the Sibu Tourism Board in its brochure. We were here for lunch with prior reservation.

The chicken rice is moist, fluffy and have the right consistency of chicken oil coating, The chicken is nicely cooked; firm with its skin still tightly attached to the flesh. It comes with the normal garlic-vinegar chilli sauce, plus a ginger-oil dip. It would not be an overstatement to say that the chicken rice is comparable to the Chatterbox's offering, minus the ambiance, food presentation and lastly the high price. For the price paid for the Chatterbox's chicken rice (for 6 persons), we could easily afford to order the additional dishes seen below, with still have some spare change left.

The restaurant is located on the last shop lot on the right, opposite the Premier Hotel, which is near the "Gateway to Sibu" structure.


Steamed Watercress Soup with Pork Ribs, Midin (Ferns) Fried in Rice Wine, Steamed Patin Fish Head, and Old School Siew Mai (Dumplings).
* MacSuzer asked me, when she was in town before X'mas, whether I know how to cook Hainanese chicken rice; the answer is on the photo (right) taken in April, 2006... not long after I started this blog. This is the only photo of the end-product, way before I took the step-by-step approach. If I were to blog on it, it will be more tedious than the Kampua Mee process; there is the chicken, the rice, the soup, the pickle and the chilli sauce to cover.