For those wondering where this place is, it's at Bormill estate, along the stretch where the KTS flats are, running parallel to Jalan Tun Ahmad Zaidi Adruce (Jln. Keratapi). There is really an aunty at this place. However, she doesn't do the cooking. The whole place is run by a bunch Bidayuhs (local natives); from cooking to serving. And they are doing a pretty good job churning out nice Chinese food. They are snobs who has an aversion to Chinese food not cooked by Chinese, or Italian food not by Italians for that matter. It's the end result that matters, not the in-betweens. There's an Italian restaurant in
Leichhardt that's packing them in, but who's in the kitchen? As long as the price is right and the food is good, who gives a damn? (Remember what
Deng Xiao·ping said about the color of the cat?)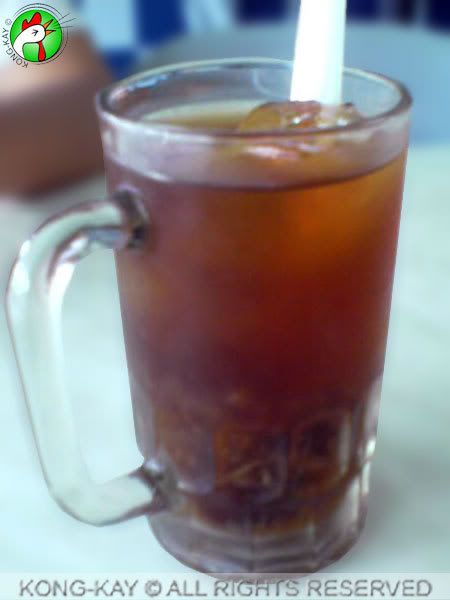 This place has quite an extensive menu for one-plate-meal, which is popular with the lunch crowd; also is has a selection of brewed Chinese herbal drinks and desserts, like the ones left and below. Those drinks/desserts are prepared in advance and kept in the fridge. They can be heated up if you want them hot.

On that day we ordered Rou Pork rice, which is deep-fried belly pork marinated in fermented red beancurd (

Foo Yi

) garnished with fried onions, and the other one is

Mee Suah

(extra-thin vermicelli) fried with egg and

Mani Chai

(

Cangkok Manis

), and it's extra

pedas

. They are competently done; Aunty must have trained them well.