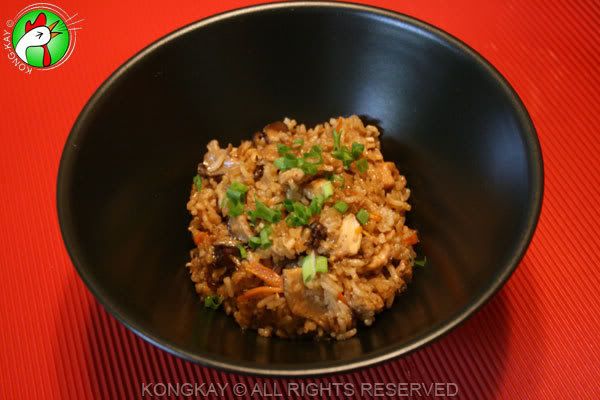 This is something I picked up from my Taiwanese schoolmates. They did it more like a paella way, in which everything is cooked in a frying pan. You can say my way is lost in the translation, and it has a hint of Hokkien Cháng (dumpling) making. I only use a bit of glutinous rice as a binding agent. As I treat this as a one-course meal, and eating purely glutinous rice can be quite 'filling' and easily stuffs one up. If you want to use 100%
glutinous rice, go ahead, but the amount of water/soup is about ¾ ratio of the rice volume.
RICE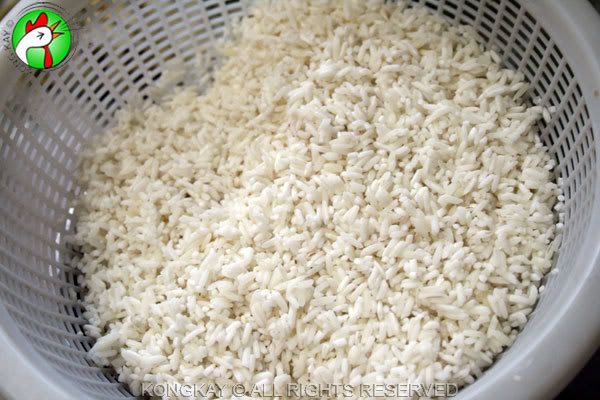 ---
1¼ Cup Long Grain Rice
---
¼
Cup Glutinous Rice
---
Wash the combined rice and soak in the water for a couple of hours.

Then drain water and let it dry on a coriander.
CHICKEN MARINADE
---
1 Chicken Breast
---
1 Tbsp Light Soy Sauce
---
¼
Tbsp Dark Soy Sauce
---
1 Tsp Cornflour
---
1 Tbsp Sugar
---
1
Tbsp Cooking Oil

---
3
Cups Water (Soup)

---
Salt (Soup)
---
Separate the meat from its bone.

Cut meat into
¼" thick bite size slices. Marinate with the above ingredients except the water and salt.

Put the bone into a pot with the water. Simmer for 1/2 hr. and add salt to taste.
---

100 gm. Carrot (Julienned) • 4 pcs. Woodear Fungus (Soaked & Julienned) •
4 pcs. Chinese Mushroom (Soaked & Julienned) •
100 gm. Dried Shrimps (Soaked)
•
2 Cloves Garlic (Minced) & 2 Shallots (Sliced)
METHOD
---
Add the dried rice, fry to throughly coat the rice with the garlic/shallot oil, by tossing and turning the rice.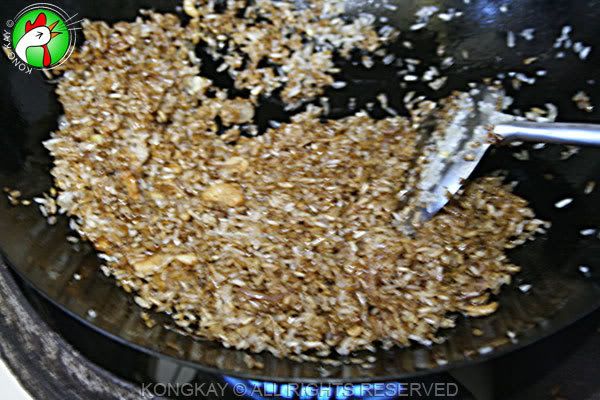 Add 1½ tbsp. of dark soy sauce to give it a brown color, and sprinkle 1 tsp. of white pepper and

1½ tsp.

of salt. Stir to spread and coat evenly.
Add the rest of the other ingredients to the mix.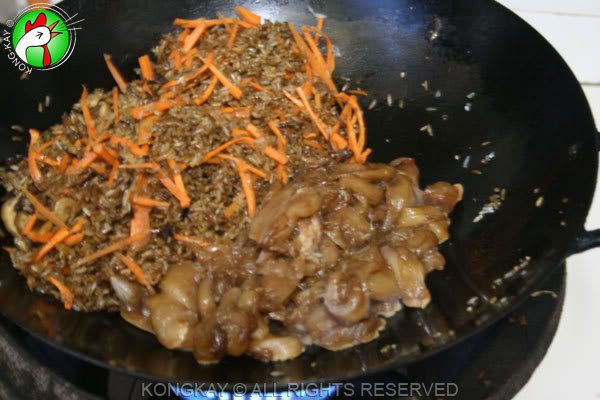 Scoop the rice to one side of the wok, then place the chicken on the other side. Tilt the wok, so the chicken is directly above the flame. Sear the chicken meat on all sides.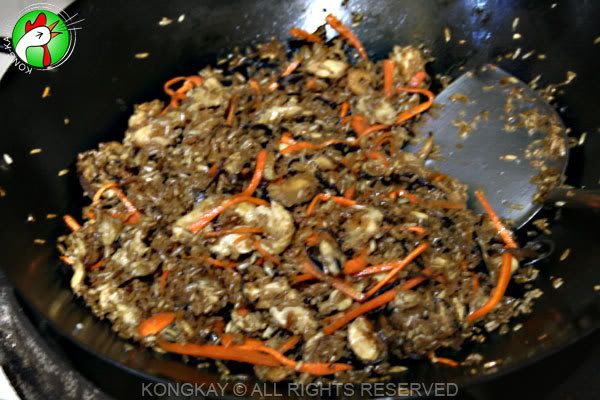 Combine with rice. The chicken need not be cooked.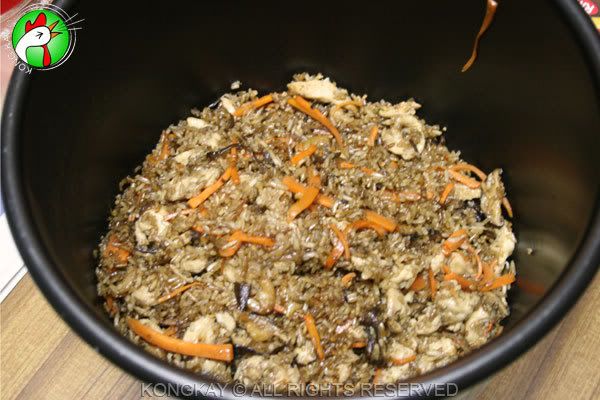 Scoop the rice and pack it into a rice cooker's pot.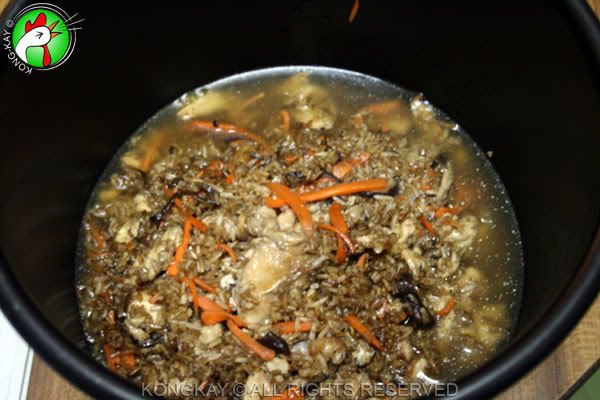 Pour in the chicken soup. Stir and mix well, and have the meat submerged in the soup. Taste the soup for saltiness, add more salt if required. Cover and cook in the rice cooker. Those without rice cooker can steam the rice inside a covered wok for 25 minutes. (from the time the water boils)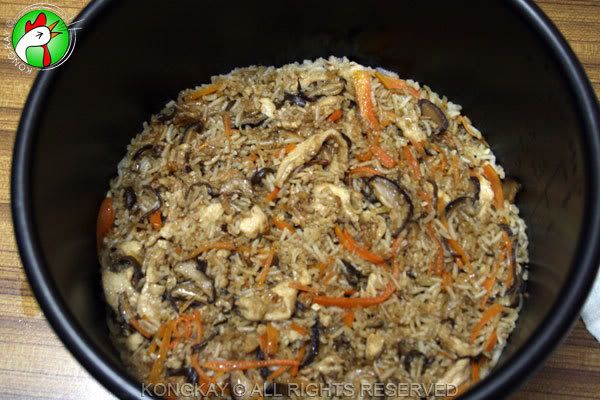 The cooked rice. Due to the nature of glutinous rice, it might stick and be slightly burnt at the bottom of the rice cooker's pot. However, steaming will overcome this problem as the bottom of the pot doesn't come into direct contact with the heat (heating element).

---