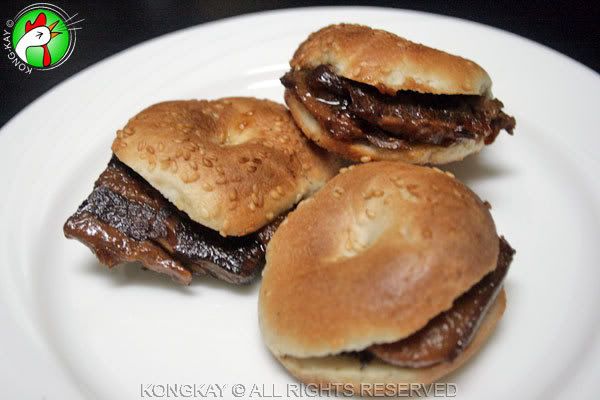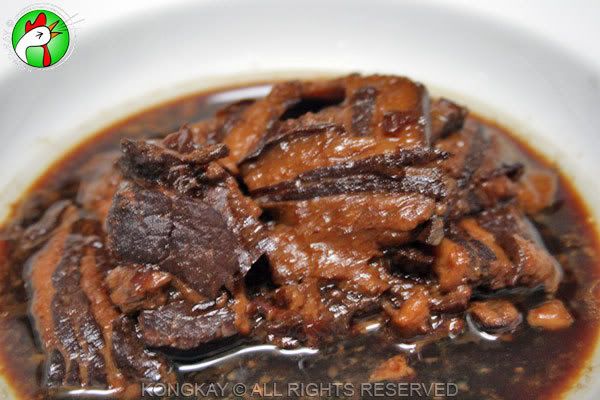 Kompia

is the Foochow's version of a mini-bagel, and it's not kosher. Pork belly is the way to go with it, and not minced pork as those you find at Foochows' stalls in Kuching or even Sibu for that matter. Lightly toast the silted kompia in the oven before sandwiching the meat with the sauce in between.

The only thing 'true' about this recipe is the use of pork belly and soy sauce. Everything else is purely conjecture (sort of an amalgamation of the short bald round old man's and the bald tall slim old man's recipes -

some of you may catch my drift

). It's a mix of the salty (Tong Chai) and the sweet (Onion).








---

6 Cloves Garlic

---

1 Medium size Onion


---

10 gm. Tong Chai




---

10 gm. Galangal


---




METHOD
---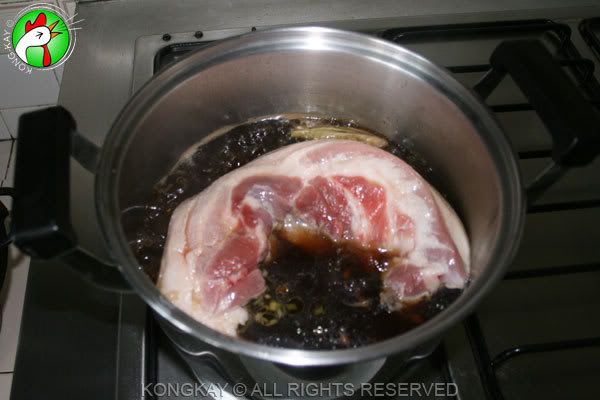 Submerge the washed pork belly into a pot of boiling water with 4 tablespoons of dark soy sauce added. Simmer for 10 minutes with the lid closed, then turn off heat and let it rest for another 10 minutes. Remove from liquid and let it cool before slicing it into 1/8" thickness.
Marinate the sliced pork with about 6 or more tablespoons of dark soy sauce to completely "browned" the meat. Keep in the fridge for an hour or so before use. In the meantime, slice the galangal, mince the onion and garlic, and also mince tang chai (Tianjin preserved vegetables)
In a wok, add 4 tablespoon of cooking oil over medium heat. When hot, throw in the sliced galangal. Toss to prevent from burning. When the oil is infused with its fragrance, remove the galangal while retaining the oil (If you know what you're eating, you can remove them later). Add 3 tablespoons of sugar to caramelize.
Add the minced onion and garlic into the oil. Stir to get even sear, and prevent being burnt.
When the onion and garlic are fragrant and slightly golden in color, add the marinated meat (shake of excess soy sauce and reserve the sauce). Fry to have the soy sauce absorbed into the meat. Toss and turn until all the sides of the meat are no longer raw. Then add the rest of the reserved sauce. Toss a few more times.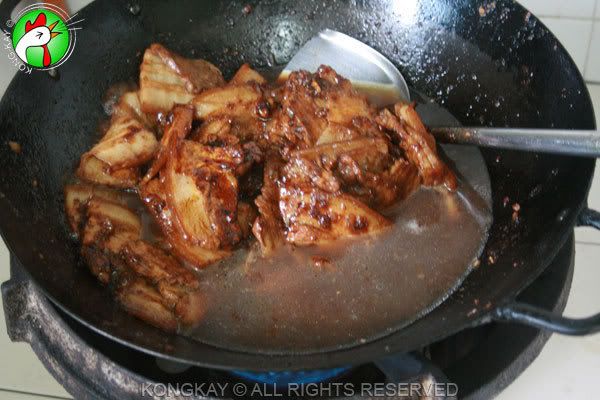 Add the Tang Chai and mix well. Pour enough water (about 8 cups) to cover the meat. Add more water if you want more sauce, When it comes to a boil, let it simmer for a while. Then turn off the heat.
Transfer the meat and all to a slow pot, or an stewing pot and simmer over low heat for one and half hour (3-4 hrs. in a slow (crock) pot on low heat). Make sure there is enough liquid to cover the meat; if not add boiled water, dark soy sauce and salt if necessary to taste.