I might not have a nice shot of the Laksa ('cos it was a late breakfast, and the big shrimps were all gone), but this place has one of the best Laska in town. It may be ordinary "Swallow Brand" concoction, and the shrimps are nothing to brat about, plus the fact that it's stingy on the gravy (1 ladleful per bowl - not a bit more). Beats me why people can't get enough of it; the mistress of the stall maybe is quite a looker, and the husband - an artful dodger ruffian type; could be some

Kong-Tow Hoon

in there!

See the wall on the left photo.... it used to have a lot of autographs by satisfied customers before commercialization took over (fags ad.). Jen from Disney Channel was here, plus our past transport guy and the anchorman in turban (see below). Such is the popularity of this place.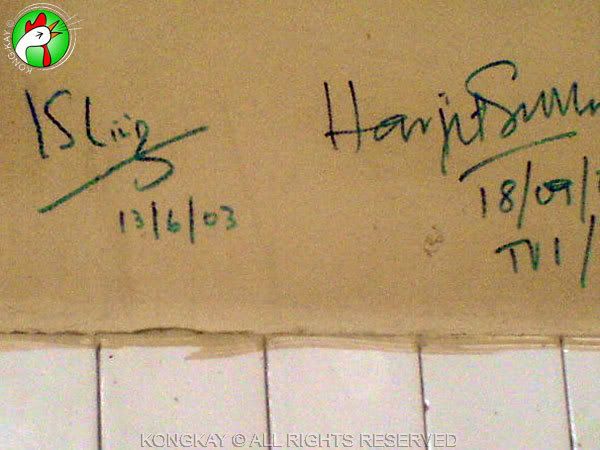 The place is packed most of the time. Waiting for seats is a norm... it's best to placed your cronies at strategic locations to grab any vacant seat asap. If familiarity breeds contempt, this place is just the opposite; no sooner than I get seated (after some waiting time), our drinks will be placed on our table without ordering. Even if we do change our drinks, it will be remembered the next time we are here. That should be an indication of how often I'm at this place!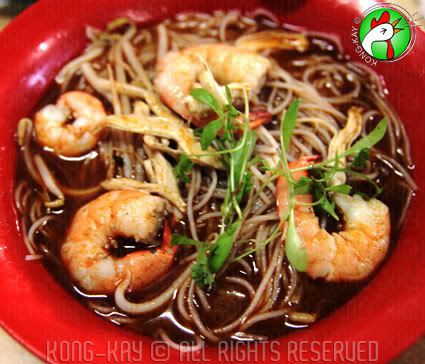 This place should not be mistaken for New Chong Choon (operated by the Old man's other son) at Green Heights near the airport. That one also has some potent Laska as well... some "Tan Silly" parted one condo plus some diamond rings for the brew (That's some Kong-Kay for you).