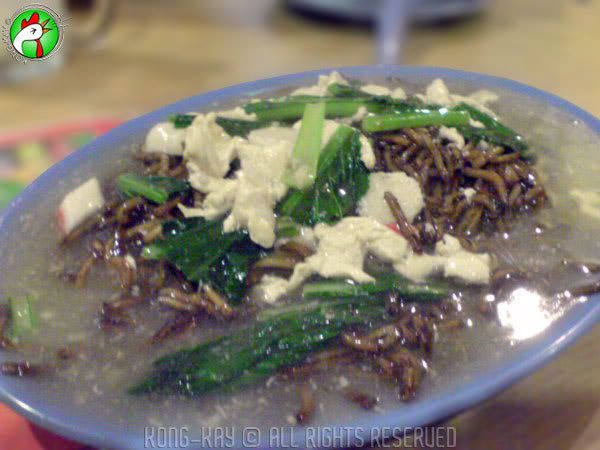 It's one of those night when a late night craving for some dessert/drinks turned into some late night stuffing. To make things worse, most of the places were closed on Mondays, and this place had some people sitting outside having a all you-can-eat steamboat/BBQ orgy. Having encounter a couple of non-starters, and not wanting to venture farther, this would have to do (few blocks from Jln. Keretapi/Green Rd. intersection, before the Digi building).

First off, they were out of

Ambula

juice (

buah kedongdong

), so settled for

Ang Moh Durian

(
SourSop
) juice, which was a bit diluted. All the eating activity beside us got the better of us, and caved in to our

Tam-Chiak

urge.

There's nothing particularly outstanding about the noodle. Just Hokkien Mee fried with dark soy sauce, laced with pork slices, a couple of factory packed fishballs and local vegetable (

Chai Hwa

), then finally covered by a layer of clear starchy sauce. At least the sheep were fed and dozing, and I wouldn't be counting any.