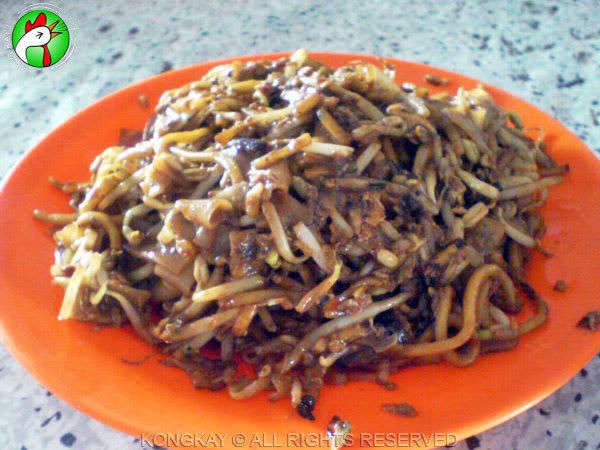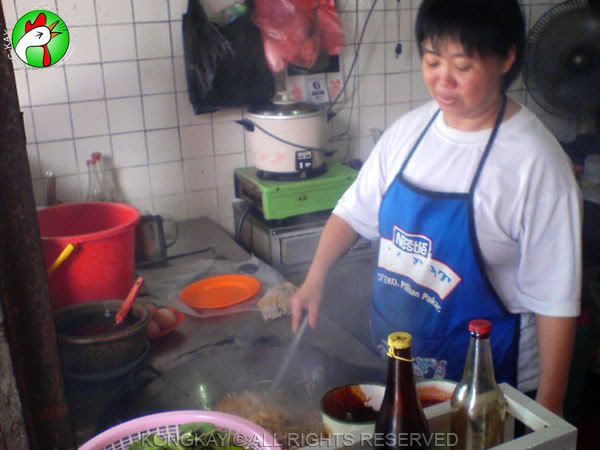 This is a combo of flat rice noodle and yellow Hokkien noodle fried with sweet sauce (

T'nee C'noy

). It's a bit like

Hoi Sin

sauce that is used mostly in

Poh-Pia

(spring roll). It's made from soy sauce, sugar, flour and water. Just say it's a watered down version of

Kicap Manis

- not as thick and dark. This is one of those quirky dishes that is intentionally sweet. Weekend Sweet

Char-Kueh

at Carpenter St. 5-foot-way is another that comes to mind.

How's the noodle? It's a love/hate affair..... either you like it or don't! If the benchmark of a good fried

Koay Teow

is measured by its
caramelization (as one food critic so fondly puts it) then this is it. But somehow this time, it's a bit over-
caramelized - more like

Chow-Hoi-Tar

(

Hokkien

literal translation: Smelly Fire Dry = charred = burnt!). Serves me right for interrupting and talking to the chef while she was strutting her stuff.


This noodle stall used to occupy the grass shoulder at the corner of the present street, which is opposite the present stall. The lady above (a grandma now) apprenticed under her dad, and is now the sole touch-bearer. Haven't seen her daughter learning the ropes. As opposed to the early days, it doesn't open at night as most of the stalls along this stretch of wooden stalls close for the evening (sign of good times). This place is behind K.Y. Café (if you coming from Jalan Sekama), and it's the only stall doing the frying.