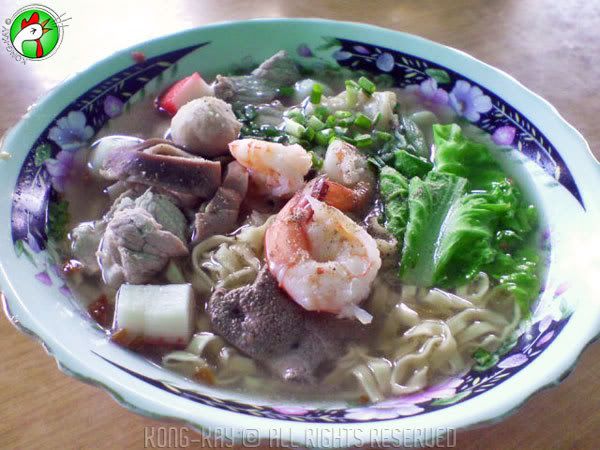 This is the second time I've been to this place after being notified by a reader of having

Tien Mien Hu

at this place. The first time was in the evening, and most of the stalls were closed except for the

Zi-Char

and a few stalls on the same side of the eatery. No

Tien Mien Hu

stall in sight. This time I came in the morning; the opposite side had 6 stalls open for business, and the night stalls were all closed.

Of the 6 stalls, 3 are selling

Kolo Mee/Kampua Mee

or something similar of nature; the others being

Too-Kar

(Pork leg) rice,

Laksa

and another, which I can't remember. It seems this "out-of-the way" eatery only serves the nearby housing estate and whatever business concern nearby ( and some Kay-Po like me). This place lacks a "magnetic" stall that would compel me to come back for more.
As for the noodle, the content isn't bad for its price. Almost all the spare-parts you'd come to expect from the works are there. The soup has some flavor, unlike some water, msg and salt mixture passing off as clear broth.