If you're ever in the dumps like I was a couple of weeks ago, this might be the cure to all your shot taste buds. This is soul food when you're suffering from a bout of Shitsky as well. However, it doesn't mean you have to be sick or something to patronize this place; I saw (name dropping session) Datuk Wong Soon Koh (rebel without a cause except his own) and Datuk William Mawan
(rebel with a cause)
[local politicians] having dinner and lunch here (not together though). But then again, I could be wrong ( the sick people part)!



Teochew Muay

(porridge) is rice cooked to the consistency as seen above; you still see the puff up grain of the rice, but it's not the exploded type in Cantonese

Chook

. It's the accompaniments that make the T

eochew Muay

what it is.... there are (12 o'clock clock wise) fried

Ikan Billis

(anchovies) with salted peanuts, fried

Kangkong
(water glorybind)
with garlic, omelette with

Chai Po

(preserved turnips),

Tau Joo

(fermented bean curd), fried salted fish and boiled slated duck egg, Having

Teochew Muay

is contrast in taste; the porridge is bland while most of the accompanying stuff have sharp (mostly salty and pungent) contrast flavors.

The

Teochew Muay

are all served in this army-type compartmentalized plate. It costs RM5 per person (what you see is a portion for 2). This is standard issue, but if you want other side orders, you can ask black promfet in fermented bean sauce (

Tao-Si Hu

) or

Knoi-See Kái

(Shredded Ginger Chicken).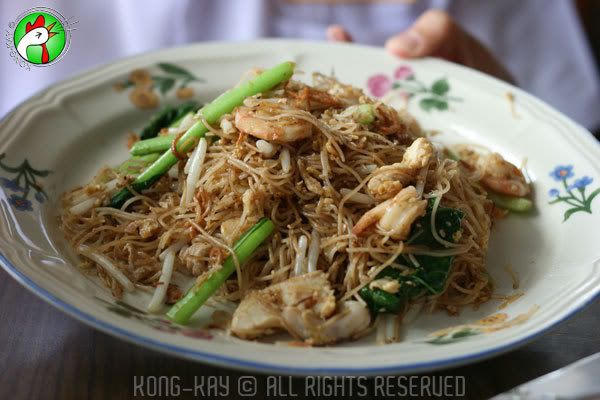 Besides porridge, there are other items on the menu like the fried
beehoon
(vermicelli).