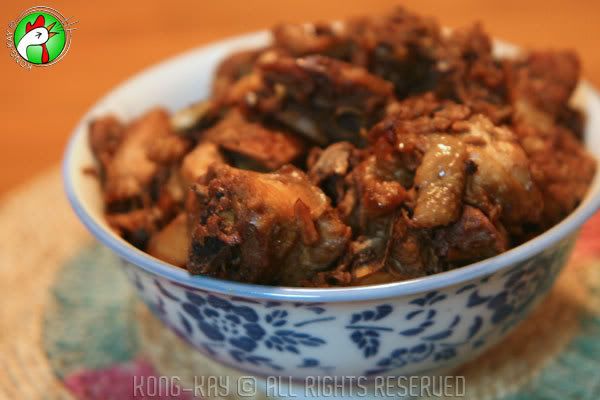 I don't what other people call this dish 'cos in our house it's called "

Piak

(sound of belly pork crackling over hot oil)

Bak

"; over the years it has evolved into "Jonty's

Bak

" (Favorite grandson's favorite dish).

Basically this is made from left over meat usually (from ancestral offerings like

Ching Ming/
Qingming
).
The seasoning used is only a rough indication; depending on the size of the pork and chicken, use of soy sauce is up to your discretion. The dark soy sauce is to give a nice brown color, while the light soy sauce is to add saltiness.
INGREDIENTS

---
1 Strip Roast Pork Belly (Thick Slices)

---
1 Chopped Poached Chicken

---
3 Cloves Garlic (Minced)

---
2 Tbsp. Dark Soy Sauce

---
4 Tbsp. Light Soy Sauce

---
Water

---
Sugar & Salt

---
METHOD

---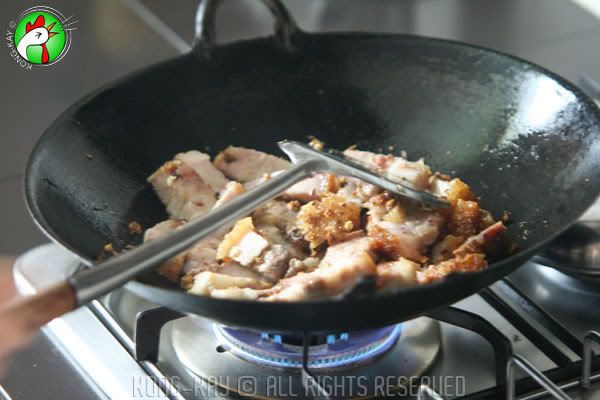 Put in 4 tbsp. of oil to the hot wok. Add the garlic and the pork belly; Turn constantly to get the meat coated and sizzling. This will farther release fat from the meat.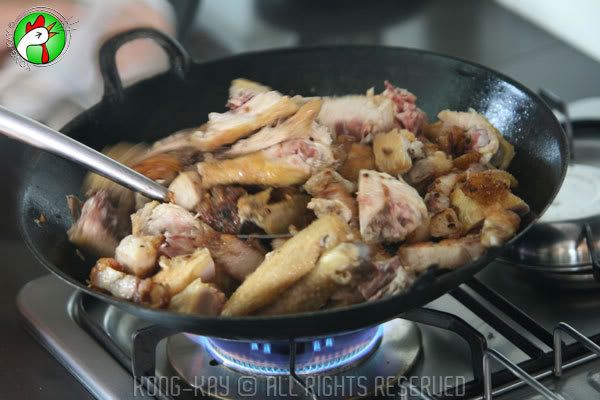 About 3 to 5 minutes later, add in the chicken. Keep tossing to get them slightly seared.
Add in the dark soy sauce to the desired color. Stir until the meat is evenly coated and absorbed into the meat.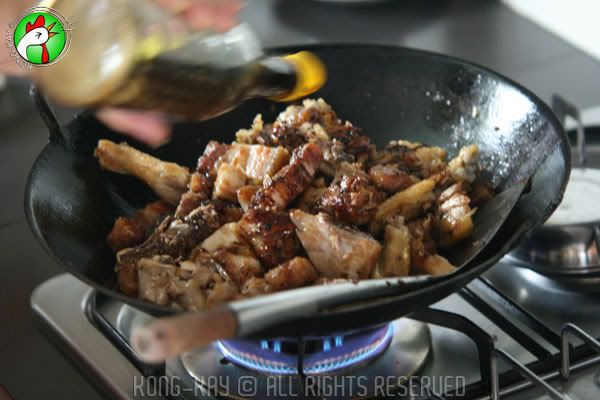 Pour in the light soy sauce, plus about 1 to 2 tbsp. of sugar.
Keep turning over the meat to get it caramelized.
Pour in water to partially submerge the meat in liquid. Cover and simmer. Turn the meat, bottom up, so eveything will be cooked evenly. Reduce the liquid.
Repeat the previous step a couple of times or so until the meat shrinks to ¾ of its volume/size. Add sugar and salt if necessary. The final result is a parched smoky flavored meat.

---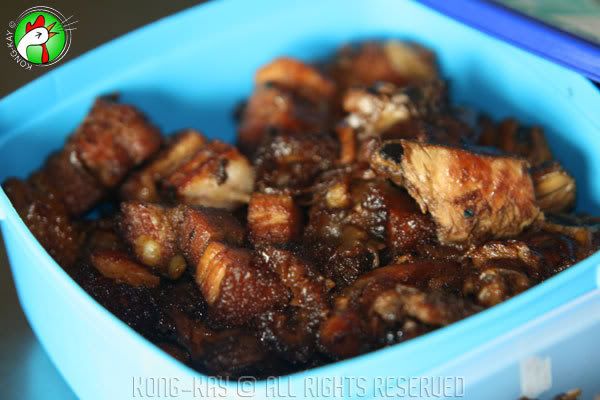 ---
**Mom at the helm