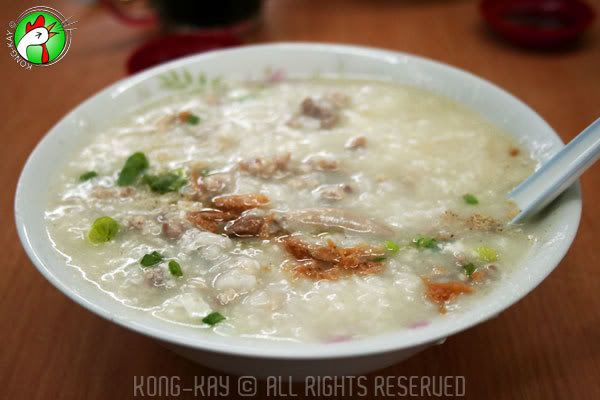 Finding a

Bak Muay

stall in Sibu is a rareness, and finding one that gives you all the spare-parts (liver and kidney) on a Tuesday or Wednesday is a rareness to none; it's the 2 off-days for pig's
slaughter
house. And there I was staring at a bowl of porridge consisting of minced pork balls and intestine - must be stuff from the day before.

But still the porridge is as good as it gets; it's been cooked by genuine Teochew couple, of whom are hard to come by in this town full of Foochows. There was the prerequisite side-dish of cut

You-Char-Kueh

.

I don't know the exact name of the backstreet, as there wasn't any street sign to be found. Anyway, it's behind Mission Road, which used to house 2 Mission schools in the ol' days - St. Elizabeth and Sacred Heart. In fact the whole area was catholic-centric, with a church here and another Chinese Mission school there. This place got quite a reputation in the ol' days; while the missionaries were doing the Lord's work, the local streetwalkers staying in the rows of wooden houses were servicing the sailors from the nearby wharf Missionary style.