If you're looking for an English signboard for this place, chances are you won't find any. There's a neon sign with Chinese inscription on it saying:"Quai-Kuo-Li". I've passed always through this eatery as it's along the main thoroughfare, and I've always thought of it as a steamboat place until my

Prolink Wong

friend told me of its other offerings.
The Beef Noodle Soup was better than the Home Café in that the soup has better favor and spicier. But it still can't beat the Jade Pot's of Kuching (I always use this as a yardstick, not that it's the best there is). The
Wôh-Tiak
(steamed fried dumplings) didn't give a good impression by the way it was presented. It was big in size, thick-skinned and looked manhandled. Indeed, they were two apprentice teenagers doing the wrapping. (

Take note that you read this here first, because in 20 years time you might read a blogger's boast of his culinary exploits in a Chinese kitchen like

here

.

)

Also, I noticed that the noodle and the wrapper skin are not self-made, as the delivery man came with a whole load of noodle and wrappers. Most of these Taiwan-Style Noodle shops boast of making their own noodle and wrapper skin, but apparently not this one.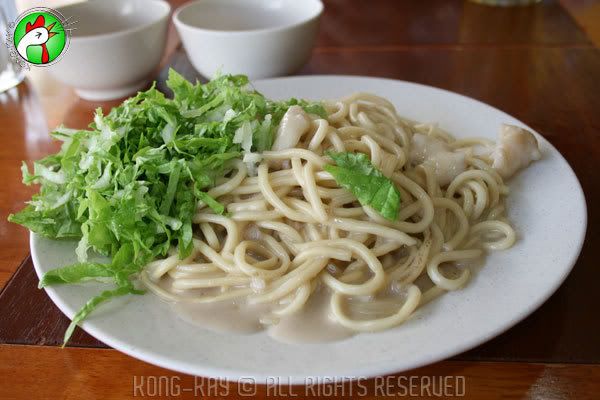 Noodle with Fish Slices In Cheese Sauce


The Cheesy Noodle as highly recommended by Wong tasted quite good if not for the hazardously laid-out-looking dish. There's a slight hint of cheese in the creamy sauce, which masked off the scent of the fish. It's a throwback to the Spaghetti Carbonara.

This may not be the best offering of a Taiwanese fare, but in a town that thrives on the mantra:"

U-Piàn-Nëë, U-Ho-Liák

!", you just can't win! Don't understand... will some Foochows please explain?



Postscript:

An email from England says :"
"
U-Piàn-Nëë, U-Ho-Liák" means Very cheap yet very delicious.
"