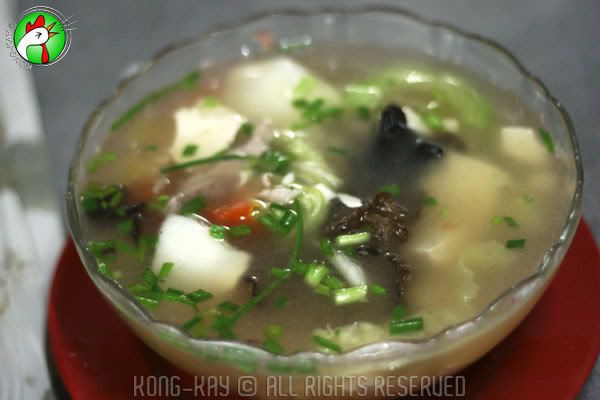 • Bitter Gourd

• Woodear Fungus

• Tofu

• Pork Stock
• Tomatoes

• Salt & MSG

• Spring Onion

Soups are easy peasy. Throw in the broth, and everything else... boom, bang!

Guo-Tim

... All done! All under five minutes!

Why am I showing all these? Well, Thursday's usually a non-event... remember? So, consider this a filler, in desperate times.

Did I mention that Ah Lee is Foochow? He cooks while the mum helps out. Lucky wife stays at home with the kid. There is only one other food stall 2 shops down. Business has slowed down a bit since they shifted all the express boats a few hundred meters up the road to its new terminal building and jetty. And those with baggage aren't likely to stop here for a bite and lug their belongings to the terminal. So nowadays, the customers are mostly people from the central market.