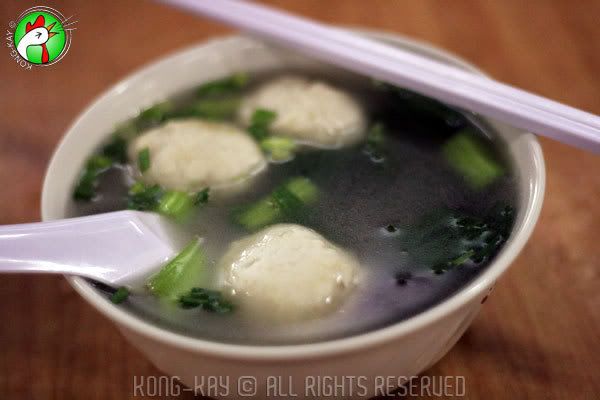 Q:

Who is more Foochow than a Foochow?


A:

A Foochow from Foochow.

That's what a trio of Foochows working (legally) at this coffee shop are: True Blue Foochows! Even the local Foochows are having a hard time understanding their spoken Foochow.


These Foochows are brought in to cook and sell Foochow specialties. They serve Tien Mien Hu, fried noodle, abalone porridge (

chook

), fried

Mee-Sua

(thread noodle) and the Foochow Stuffed Fishball Soup.

The fishballs are all self-made, in-house. They are huge compared to ordinary ones. They are first blanched. Water discarded, then fresh water are boiled with the veg., vermicelli and fishballs thrown in. Chicken stock from the bottle is added for flavor. The fishballs are excellent -QQ! And there are substantial amount of meat in the stuffing. It would have been better, had they boil their own broth than using the bottled stock.