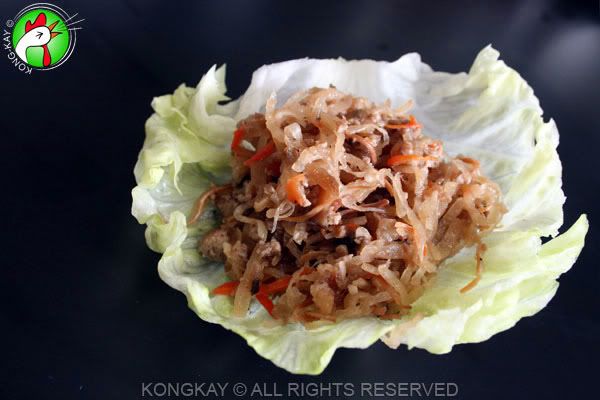 Everyone seems to have their version of "lettuce wrap". The Thais have

Puk Hao

, and the

Ang Moh

s have something along the line too. I think this is a variation of the same theme.
It makes great finger food at parties, where one has to participate in the wrapping of the 'parcel'. It can be prepared well in advance ( and let the flavor sink in), and warmed up again before serving.


Jui-Hu Chiew

i
s julienned cuttlefish. This is what that differentiates this from other lettuce wrap.

Sambal Belacan

is spread over the lettuce leaf before the Jui-Hu Char is piled on. The

Sambal

is easily made with ½ a dozen of chillies blended/pounded with about 10gm. of

Belacan

(shrimp paste) with
Kasturi

lime juice, sugar and salt
added.







---

100 gm. Minced Pork

---

100 gm. Shrimps (Chopped)

---

1

½ Kg. Julienned Jicama (Bangkuang)

---

20 gm. Dried Chinese Mushroom (Diced)

---

30 gm. Carrot (Julienned)

---

1 Cup Chicken Stock

---

3 tbsp. Fried Shallots

---

Sambal Belacan



METHOD

---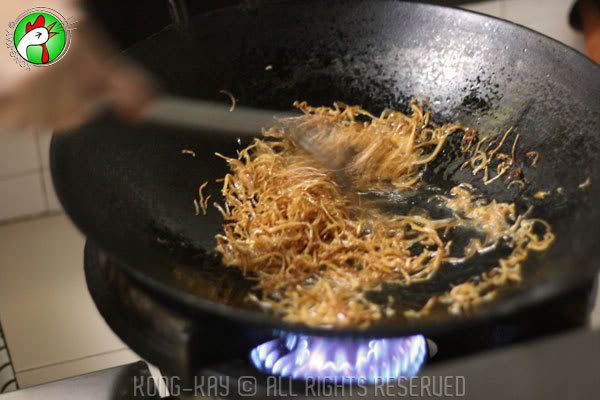 Add about a ¼ cup of oil onto a heated wok. Quickly stir-fry the

Ju-Hu-Chiew

until you heard a blistering sound of "piak!". They will be slightly crispy. Scoop out of the wok and set aside.
Put in garlic, fry for a while until fragrant; add pork and stir for a while. Shrimps are added next.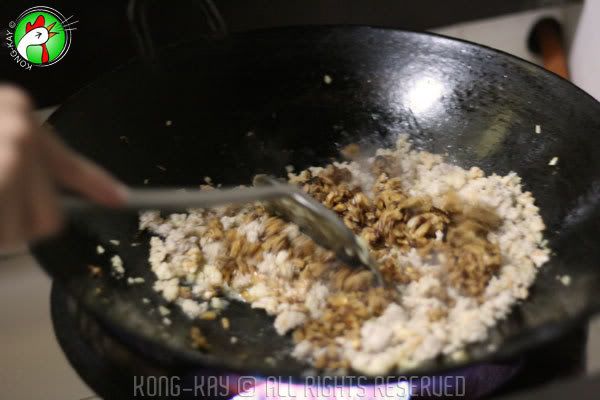 When the pork and shrimps are done, add the mushroom. Mix throughly.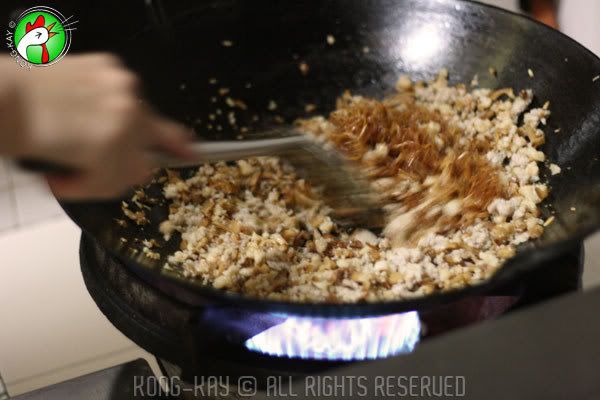 Do likewise to the fried

u-Hu-Chiew.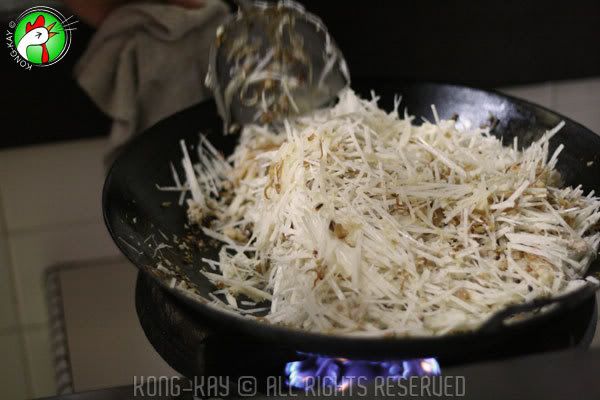 Dump in all the
julienned jicama. Toss and turn all the ingredients from bottom up, to get all the jicama cooked. When it gets too hot, lower the heat. Liquid will be released from the jicama.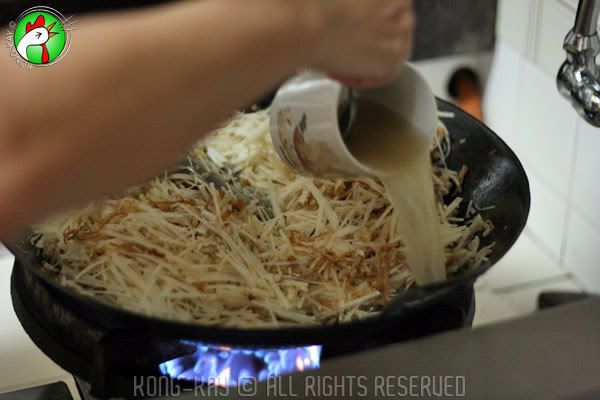 Pour in a bit of light soy sauce to get it a tan color.
When it gets a bit dry, add in slowly about a cup of chicken stock (2 tbsp. granulated chicken stock+ 1 cup water).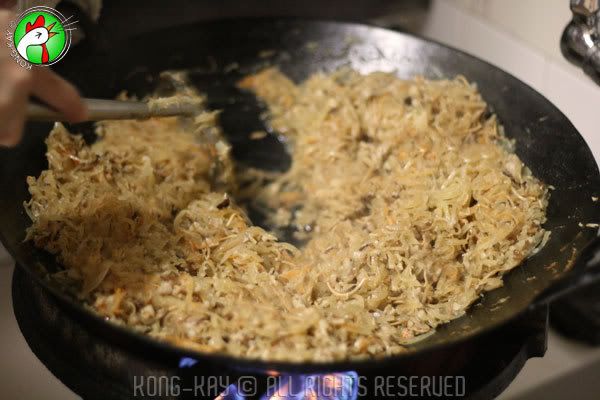 Add more water if needed during the frying. This is a slow laborious process, which takes about 15 to 20 minutes.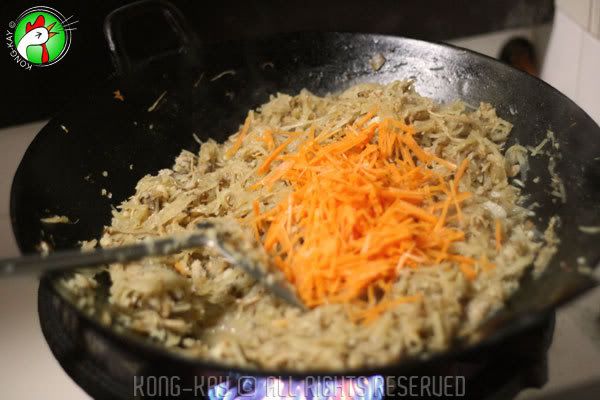 Add julienned carrot for color. Toss for another 10 minutes. Add salt to taste. The jicama and carrot should be soft and yet retaining their crunchiness.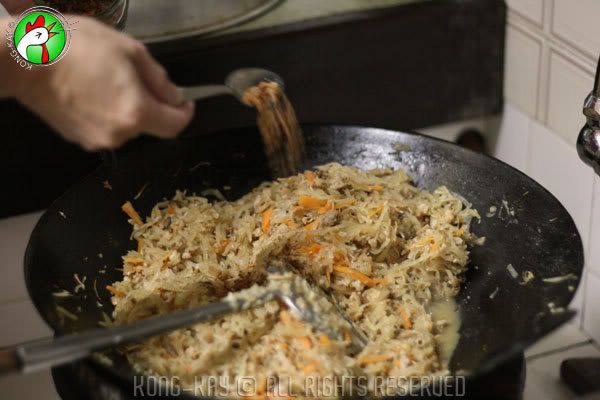 Sprinkle the fried shallots all around; give another few toss to blend in with the other stuff. The end result will be dried of any liquid, but yet moist.

---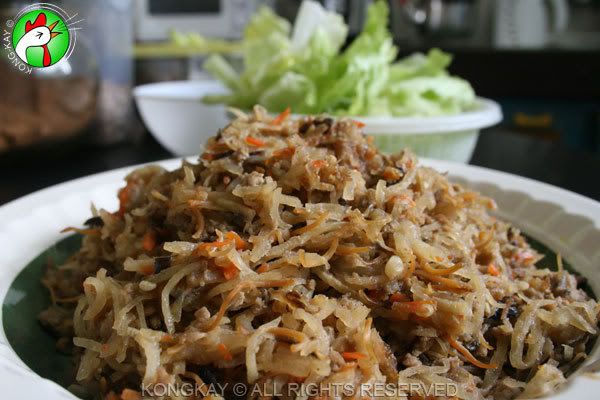 ---