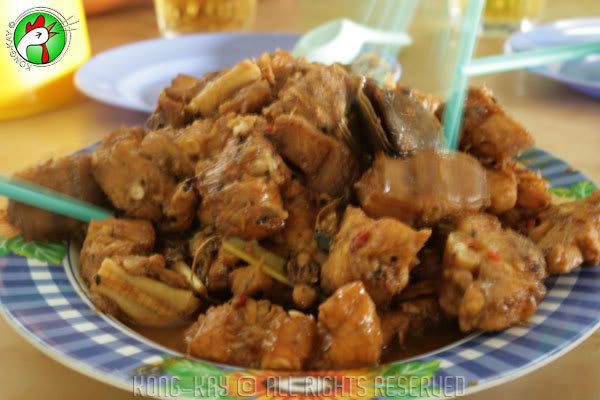 Instead of high tea, we have a lowbrowed after-office hours' snack at Justine's drink stall. My friend has an office nearby, and we meet up here for a drink or two.

This is a rickety dank of a joint where many call "home pre-home" - a place to let off steam after work before facing the reality of home!

This Melanau lady runs this drink stall with her 3 school-going kids. All the stalls don't have names, and are only referred to affectionately by its stall's number. This is

Chap-Gee-Ho

(Number 12).
She's not allowed to sell food, but when all the other food stalls are closed for the evening, we get whatever fish and vegetables from the market next door, and have her cook them. On this particular evening, we have
Leong Kut
(Dragon's bones), otherwise it is simply stingray's tail - courtesy of Ah Ming, the fishmonger. She fries it with garlic, lemongrass, chilli and soy sauce. The tail is firm and full of meat.
Sedap
! The other dish (below) is shallow-fried fishes coated with flour. Yup, I'm having iced

Kasturi lime

drink with those, but somehow at the end of the evening it evolves into some green bottled stuff called
Tsing Tsao

.

This is where I'm introduced to Ah Kow and Ah Lee, foodies in their own right. Ah Lee runs the

Zi-Char

stall next door -

Chap-S'na-Ho

. While Ah Kow, a fuel tanker boat's skipper by profession, hangs out here during his off-days and dreams up things to cook. While Justine is busy at this side of the kitchen, Ah Kow prepares the

Sambal Belacan

(featured last week)

next door. Ah Kow's and Ah Lee's cooking will be featured in the next few days (nonologue). I'll be hanging up my apron and taking time off cooking for a couple of weeks.

And while we are eating, someone calls up saying Sago worms are on its way. Well, that will be featured in Babe in the City - KL's Muhibbah's edition (subject to editor's discretion).