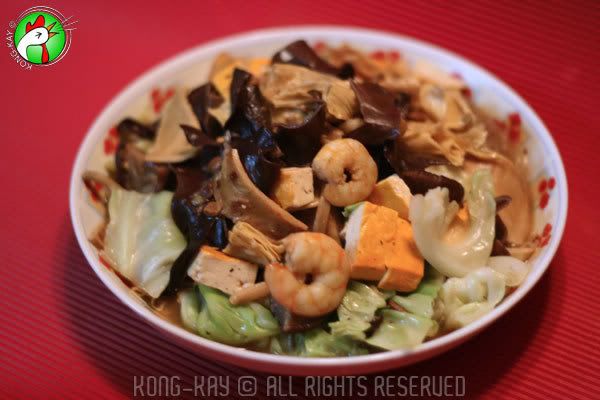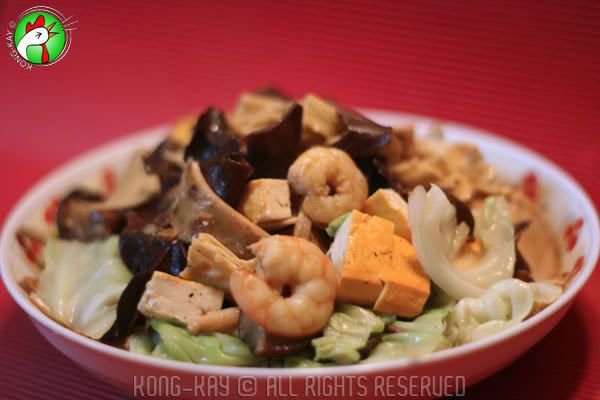 That's mixed vegetable, or mixed dish to be more precise, for the uninitiated. However, this one has more beans-made and dried stuff than fresh vegetable.

I'd like to draw your attention to the colored

T

au-K'nua

(firm tofu) below. That's what a real
T
au-K'nua
was before the color was banned. There's this store that still sells these twice a month for those 2-days-a-month
(1st. and 15th. day of the Chinese Calendar month)
vegetarians.

The idea is to have a potpourri of colors and texture for the dish, so the amount of each ingredients used is up to your discretion. I used the
T

au-K'nua
over the course of 2 days , cooking the same dish, but once using shrimps, and the other using pork. I marinated my pork the usual way: soy sauce, cornflour, sugar, pepper and oil, and the shrimps with a few drops of light soy sauce and sesame oil. The normal way is rather bland; straight off the block, with no marinade.








---

8 pcs. Lily Buds

---

3 Dried Mushrooms


---

2 Dried Wood-Ear Fungus


---

20 gm. Sliced Pork/ Small Shrimps


---

1 tbsp.Tau Cheo




---

1 Bundle Tanghoon




---

1 Minced Clove Garlic

---

•

Knot each Lily Bud

• Soak all dried ingredients separately to rehydrate • Cut all ingredients into bite-size • Use Tau Chneo as whole, or press into a paste with water added






METHOD

---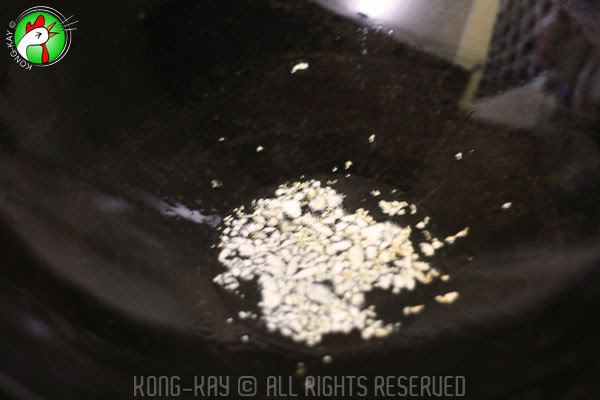 Add 4 tbsp. oil onto wok over medium fire. Fry garlic until fragrant.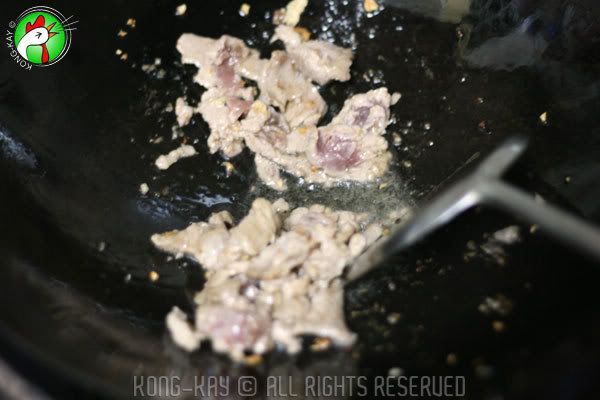 Add in the meat or shrimps. Toss to mix with the garlic until color changes.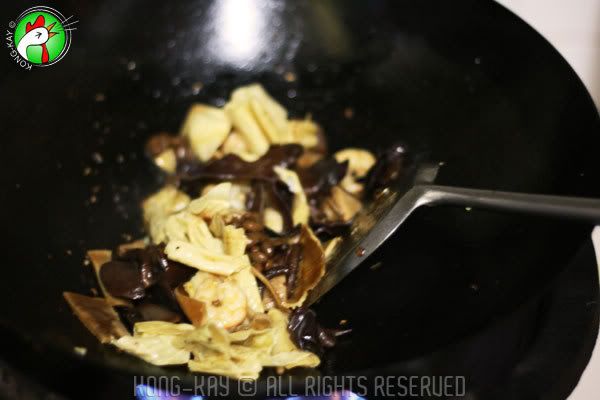 Put in all the ingredients, except the

Tau K'nua

, cabbage and the tanghoon. Fry for a minute to get them throughly mixed.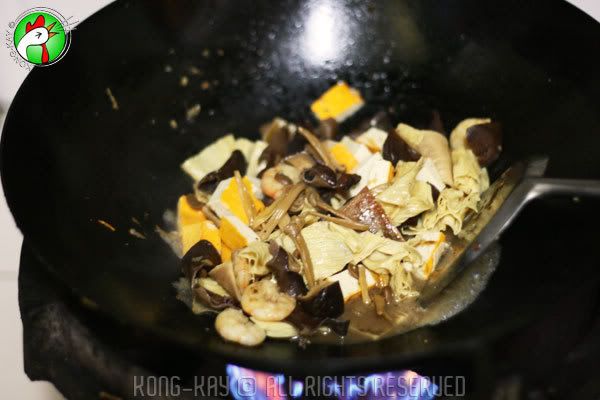 Add the Tau K'nua. Stir for another minute.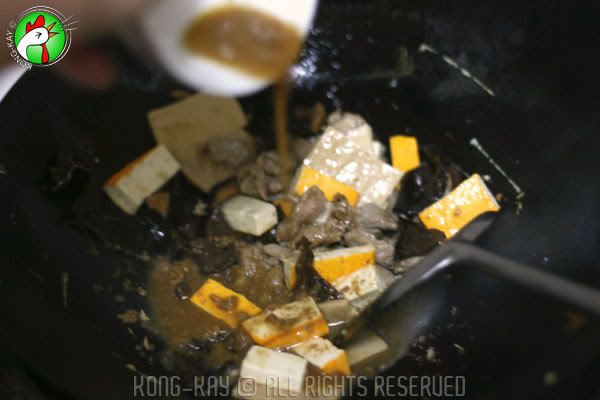 Add the

Tau Cheo

, paste or whole. Get all the ingredients coated with the
Tau Cheo

. Add about ½ a cup of water. Cover and simmer for a minute. Turn the ingredients bottoms up. Simmer for another 5 minutes to let it absorb the
Tau Cheo
flavor.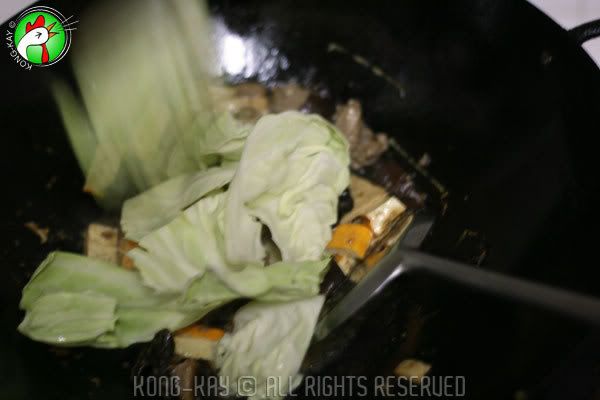 Throw in the cabbage to the mix. Stir for about 2 minutes. (I like the cabbage crunchy). Longer if you want it soft.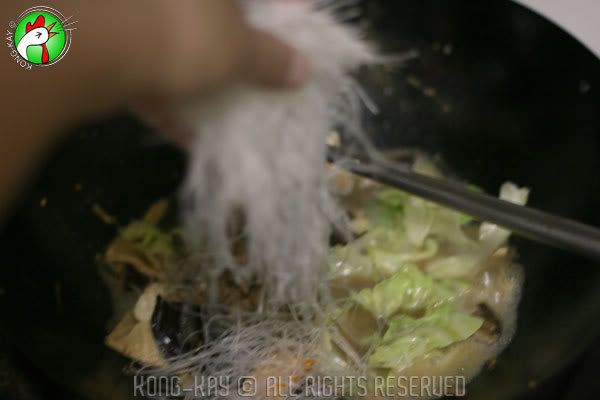 Finally add in the Tanghoon. Scoop all the other stuff on top top cover it.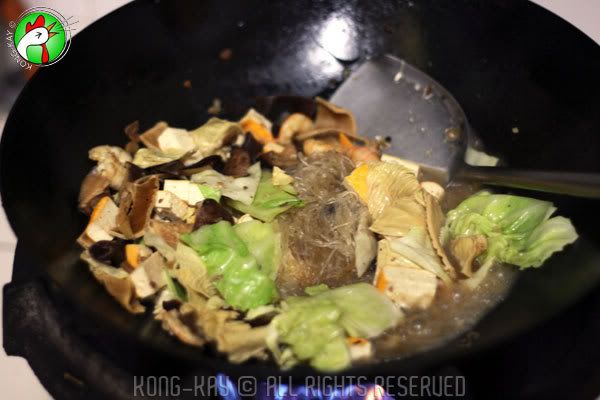 Let the

Tanghoon

submerge and simmer for a minute. Add salt to taste.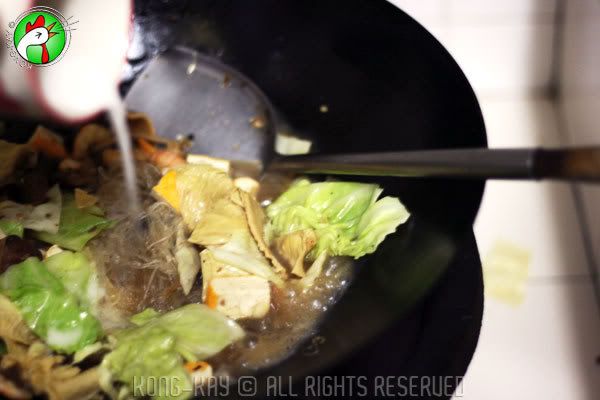 I add light cornflour slurry before serving, so the the sauce moistens the ingredient, rather than let most of the liquid sink to the bottom.
.
---