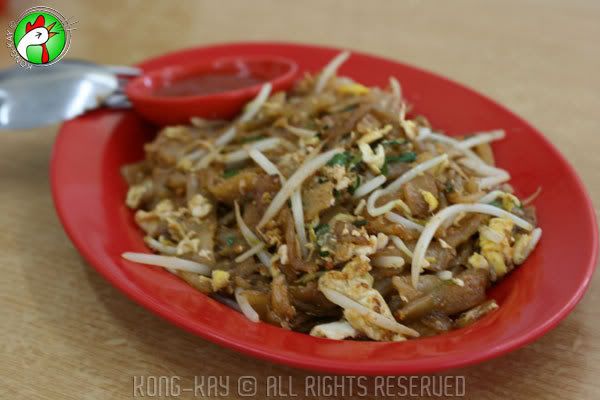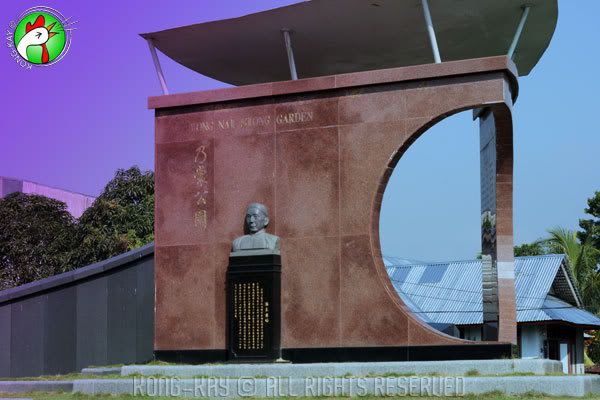 In search of a great fried

koay teow

, brought me to this village some 5 miles from town center. This is Huai Bin's (Sixthseal's infamy [sic]) county - land of the

Hinhuas

. This is also the breeding ground of another Sibu's famous son - remember Carrian, the company the brought Bank Bumiputra to its knees in H.K.? Of late, the place has developed from parallel rows of wooden shop houses to concrete ones, plus a

Legendary Walkway

along the banks of the red river

in honor of the early Foochow settlers.

On with the food; the

koay teow

here bears the same name of its fore-fathers' legacy -

Kok Cheng's Fried Koay Teow

.

Kok Cheng

is the name of the coffee shop opposite the Chung Hua Primary School in town. That

koay teow

stall was one of the early ones that did

Taugeh/Kuchai Koay Teow

in town. I remember in the old days, my dad used to bring our own eggs to save cost for the

Ta'Pau

-

Kuhong

, eh?

This new stall has no familiar faces in sight. No male ones - must be the 3rd. generation. We ordered the

Sambal Koay Teow

... nothing to samba 'bout! Looked alright but lacked the

oomph!

factor. Rather bland for a

Sambal

one... trailing

Ghim Eng's koay teow

(She's Ah Kow's Mrs. - just found out on this trip. By Ah Lee's account, Ah Kow does all the legwork of wifey's

Sambal Haibee

.) by a mile. Must have forgotten to shout: "Flame On!" while woking. So much for nostalgia!


The shop is on the left side of the road if you coming from town using the old Queens Way, before the Legacy Walk.