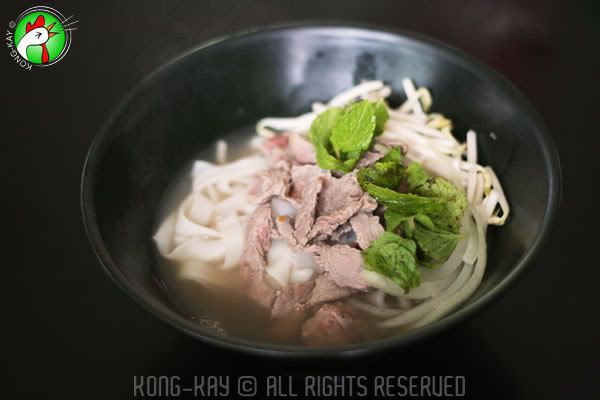 I've tweaked this recipe over the years as I go along... I thought this is a mirror copy from Nichole Routhier's

The Foods of Vietnam

, but on double checking, there are dissimilarities. Usually I tend to use what I have in the pantry, and when the taste clicks, those will be the main ingredients I stand by; but then, sometimes I forget a thing or two, as it's all in the head.

Years ago,I first tried this out on some Argentinean sirloin my dad brought back. So when I told the cold storage person what I was going to do with the sirloin, she exclaimed: "Siaw ah!" I replied:" Bay-sai-may! RM20 a bowl!"

The best I could get my hands on are
Uruguayan
ones 'cos the Australian and New Zealand's meat are temporary suspended. Reason: Not halal enough according to the our government. Indonesian, the most populous Muslim nation, have no problem with those, nor do the Saudis, the torchbearer of Islam. A case of holier than thou attitude, or a business deal gone sour?

The chilli condiment is non-Viet.,; it's a rendition of

Ah Mui Mee Sapi's

, the famous local beef noodle stall.