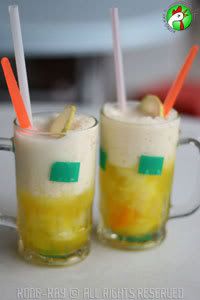 It ain't a long cool Dane in a white bikini, and this is not an alcoholic cocktail either, but yet another fancy name given to another sweet dessert drink concoction - unique to Kuching. How the name comes about, I'd like to know. Not some ghostly appriration, I hope.

So what is it? That's the RM1.50 question. Behind the malt-looking float-kinda-thing contains the usual suspect: gelatin, pineapple, longan and orange crush with shaved ice and

pandan

syrup and a rich layer of evaporated condensed milk. with a slice of lemon added. What does it taste like?

Goo-Leng-Peng

with with fruity bits added, that's what it is.

Hey, come to think of it, doesn't it look like a mug of frothy beer? Probably this is what it is - an imitation of of a glass of the Danish Larger, harking back to the cinematic ad. of years gone by. Maybe the name is derived from the long cool Dane after all.